User Review:
Solo Stove
Rating:


Source: bought it new (Disclosure: Solo Stove rebates consumers in exchange for product reviews.)
Price Paid: $89.99

Summary
This is one of the most well built compact woodgas stoves that I've had the chance to try. It's the same design as the Bushbuddy but is a little heavier as the walls are thicker. The overall construction is impressive and the brushed steel design is very nice. I've used this stove with various fuels including a homemade alcohol stove and it burns really well. I would recommend this stove for any backpackers, survivalists, canoe trekkers, kayakers, who are looking for a solid/multi fuel burning stove.
Pros
Well built. Solid stainless steel outer shell + integrated pot stand
A great multi fuel stove (wood, alcohol, esbit). Saves you from buying canned fuel.
Secondary combustion/gasification vents create a near smokeless burn.
Requires little fuel to achieve boils. An efficient stove.
Lightweight at 9oz.
Cons
As with any wood burning stove, your pot will blacken with soot.
Difficult to use if wood is wet.
Takes some practice at getting a fire going.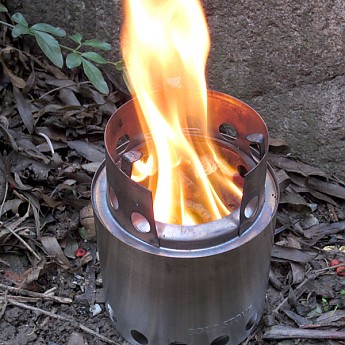 Setup: Setup is easy. The integrated pot stand nests in the stove so that just needs to get flipped over. It's rests on the stove nicely and securely. 
Ignition: I used a cotton ball fire starter to get it going the first time. I piled on small twigs and it was fairly easy to get lit.  I also did a second burn where I filled the entire stove with wood then put a lit cotton ball fire starter on top and let it burn down.  I prefer the first method.  
Flame control: The flame is pretty easy to keep steady but holding a smaller flame takes a little practice. 
Cooking: So far I've boiled water and fried a small chicken breast on it. It works well and cooks as expected. 
Boil Time: I boiled a cup of water is a few mins. 
Wind: The integrated pot stand works as a wind screen and does ok but I do recommend you use a wind screen if there is a strong wind. 
Fuel Efficiency: Excellent. I went through 4 burns with wood/twigs I gathered in 5 mins.  I didn't weigh the amount of twigs but I'll do that next time. This stove burned the twigs down to a very fine white dust. There was hardly anything left which signifies an efficient burn.
Stability: Fairly stable. Make sure you use it on a flat surface. I was testing it at home on a flat table so it was very steady.
Packability: Fits a Snow Peak Trek 900. It's strong enough to not need to be placed in a pot if you don't have one.  If you have a pot, then it makes sense to pack it inside.  
Ease of use: It's very straightforward. You'll need to learn how to use a fire starter or tinder to get it going but if you're capable of that, then it's not difficult to use. 
Features: The air flow on this stove is excellent. I tested it with an alcohol stove inside just to see how it would burn and the double walled features of this stove helped increase the height of my alcohol stove flame. The inner jets aid in strengthening the flame. 
Construction & Durability: This stove is built very strong. The one piece outer construction make is feel like a very finished/polished product. I don't doubt this stove will last a lifetime if taken care of.
Conditions: I've used this stove for 3 weeks now. I plan to take it on a canoe trip this summer.  
[Disclosure: Solo Stove rebates consumers in exchange for product reviews. Compensating for reviews without disclosure of material connections is a violation of FTC endorsement guidelines.]


Where to Buy
sponsored links
Help support Trailspace by making your next purchase through one of the links above.