User Review:
TAD FAST Pack Litespeed
Rating:

The Triple Aught Design FAST Pack Litespeed is my go-to pack for almost every excursion that does not require overnight equipment. Made in the USA of very durable 1000 Denier Cordura, the Litespeed really lives up to the term bombproof.  But as with most gear, durability comes with a weight penalty and the pack weighs in at 56 oz. which is a little heavy.  But in my opinion, the small weight difference pays massive dividends in the durability department.
The standard capacity is 1300 cu. in. and allows for good organization with two zippered internal mesh pockets, one zippered external admin pocket, and an internal hydration sleeve which can accommodate bladders up to 100 oz. 
The overall shape of the pack is quite narrow and allows for a wide range of arm motion which is a major plus when doing anything other than walking.  PALS webbing on the outside of the pack allows you to attach various additional pouches for gear that needs to be easily accessible such as GPS units, cameras, cell phones, batteris, etc. 
Also included is a removable "transporter tail" which is designed to carry gear such as trekking poles, fishing poles or maybe even a tripod.  I use it for trekking poles and must say that it does a great job.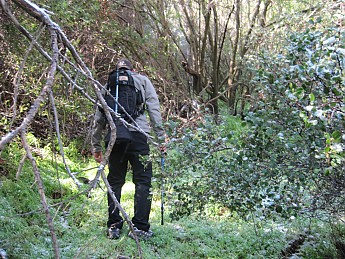 Some of my favorite features include the use of Hypalon in key areas of stress, padded and ventilated back panel, compression straps to secure the pack to your back and some velcro loop on the outside of the pack which allows for various patches or reflective tape.  The reversed zippers are quite beefy and the wide shoulder straps are quite comfortable as well.
Clearly quite a bit of thought and engineering went into the designing of this pack and it shows with the long list of features. Mine has accompanied me on countless hikes from the boulder laden landscape of Joshua Tree to the Sierra Nevadas and even overseas to Europe and is still as solid as day one. 
As previously mentioned, the Litespeed may not be for the gram counters out there, but for those who want a tough pack that can easily adapt to various activites, the Litespeed is worth serious consideration.