User Review:
Tarptent Cloudburst 2
Rating:


Price Paid: $260

This is a superbly crafted, brilliantly designed, 3-season, ultra-light TENT - not some flimsy tarp. This represents a philosophical leap for me into the ultra-light *scene* and without any sacrifice  in quality (that i was secretly suspecting would be evident from "Cottage Industry" - WOW! was i wrong).
My Cloudburst II came with the sewn-in floor (not sure if this was standard or optional...) and is so fast and simple to set up i was amazed, the first time i set it up, at how quickly i had shelter. Seam sealing was nothing new other than the sil-nylon specific sealer (i sealed my seams 3x - pretty normal for me - just to be sure) and never a leak in over 2 years of ownership/use.
I've used my Cloudburst II mainly on mountain hikes here in Central Bosnia (though i'm an American, i've yet to use it on 'home soil'). The tent has experienced strong, consistent winds and some intermittent hard rains (with some sustained, overnight rain as well) and served with aplomb!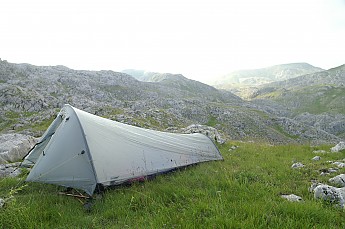 It's now my go-to shelter for 3-season conditions - especially when i'm trekking by myself. I do use a plastic ground cover b/c the fabric is pretty light-weight (meaning not as abrasion resistant), but i do this with every tent i own (unless i have a specific ground cloth for that specific tent) so it's truly no added inconvenience. The entrance to the tent is an interesting design using no-see-um mesh and 3/4 circle to expose a huge opening to the tent's interior. The covering/vestibule for the front-access door is very-well-thought out going nearly to the ground offering a generous space for boots and similar small items. The floor is pretty slick, so as mentioned by a previous Reviewer, some SeamGrip (or similar material) dots/lines are helpful to keep sleeping mats in place.
The materials and craftsmanship are top-notch. Though this is an *ultra-light* shelter with ultra-light materials, my tent has stood proud in some pretty strong winds (in a foot/head-on pitch configuration).  I can see in an absolute deluge some water misting may occur through the sil-nylon fabric, but honestly in over 25 years of backpacking/mountain climbing throughout the Eastern US this is not a *common* occurrence (but possible all the same).
Recommendation: Buy it - you'll love it!