User Review:
Tarptent Contrail
Rating:


Source: borrowed it

Summary
The TarpTent Contrail is a good single-wall shelter that provides rain and bug protection. Very lightweight and roomy for one person.
Pros
Lightweight at 24 oz.
Roomy for one
Great vestibule space
Packs small
Only 1 trekking pole to setup
Cons
Requires practice when setting up.
Tent requires readjustments from time to time when pitched
Silnylon tends to sag when wet.
On a trip last year, I was offered the chance to borrow a friend's TT Contrail.  I was excited to finally have the chance to use this tent and see it in action. On this trip, we were expecting rain and cold temps down to the 20's.
When my friend handed me the packaged tent, I was immediately amazed how small and really light this was.  At first glance, I seriously thought I was being handed a tarp and not a full 3 season tent with bug protection!  At 24 oz., this tent is amazing and in my opinion, packed with features, the same features you would find on a double-wall tent.
Arriving at our camp for the evening, I was very eager to setup this tent. I can tell you this much, it's a good idea to practice setting this tent up at home first.  It took me a good 15 minutes to finally set up the tent...even after watching many online videos on how pitch this shelter, a hands-on feeling and practice was definitely needed.  
The idea of how to pitch the tent wasn't the difficult part for me, it was getting the fabric taut enough so it didn't sag. I had to readjust the pitch, tighten guylines, etc., just to get the pitch correct. After getting the pitch just right to where I was happy, the tent looked great.
Here's a shot of the tent prior to tightening the guylines..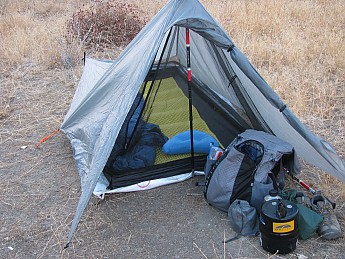 Here's a look inside...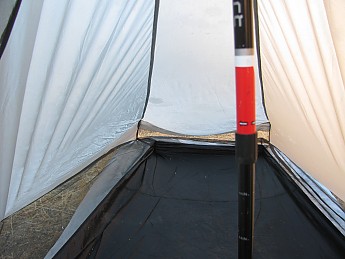 Here's a rear shot next to the (right) Six Moon Designs Skyscape Trekker (another 24 oz. shelter)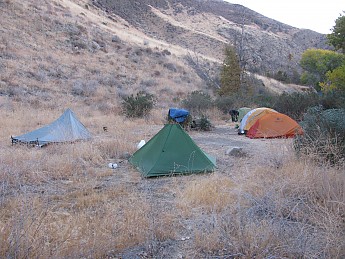 Last shot with the pitch corrected...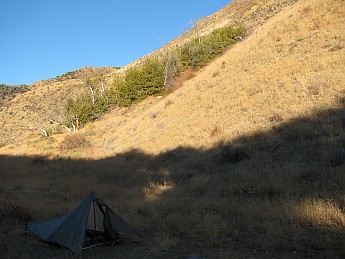 That evening, rain never came, so I am unable to tell about how this tent handled rain. However, I would imagine it would handle just great. I did experience frost on the outside of the tent which caused the fabric to sag overnight.  The foot area of the tent became really close to my sleeping bag making the shelter look like a hooped bivy the following morning.
Based on my overall experience, however, I still think this is a great tent but you will definitely need to practice setting this shelter up in your backyard or park prior to a trip.  There is a learning curve when setting up these shelter types.  
I would recommend this shelter to anyone looking to lighten their load and for someone who's looking for a roomy one man shelter.