User Review:
Tarptent StratoSpire 2
Rating:


Source: bought it new
Price Paid: $325

Summary
100% waterproof, two doors, two large vestibules. Trekking poles required. BOMB PROOF. Removable netting, bathtub floor. Puts up and takes down in maximum 2-3 minutes. Made is U.S.A.

Pros
Bomb proof
Stable in high winds
Lightweight
Setup is easy
Cons
Seam seal not standard
Tent stakes povided are not the best, nor enough
I purchased this tent my senior year of college in preparation for '12 thru of the AT.  Even though my thru plans fell through I came out of the deal with some great gear.  My Henry Shires Stratospire 2 Tarptent is one of those items.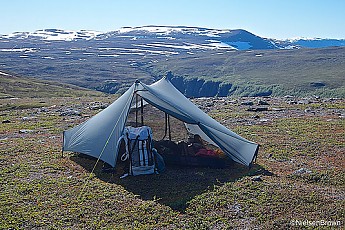 I would like to speak on only a few points for this tent because 99% of this item can be summed up as follows: It's an awesome product.
Material: Henry makes his tents out of a silicon impregnated nylon material. Lightweight, quiet, and quite strong.
Some say that if rain hits this material hard enough that the rain will actually go through the material: Not true. When condensation builds on the inside of the tent due to poor venting, and rain then hits the tent very hard it knocks the condensation from the inside wall of the tent and you get sprayed. 
Only downfall to this tent that I see is, and with all Tarptents is that they do not come seam sealed as a standard.  This can be looked at as good or bad.  I can see how some people would prefer to do this themselves(I did) although others would rather pay Henry Shires company to do it for them.  I know that if I do it myself, only I can be to blame for a wet tent.  So bottom line, if you choose to not select the option for Tarptent to seal your tent, make sure you do it yourself or you WILL get wet. 
Durability:  Although the sil-nylon feels weak I have had zero maintenance issues in the time I have used it.  Only damage I have experienced is the stuff sack that the tent goes in has a couple holes from outer pack wear.  (expected)
Weather Resistance: I have slept through several monsoons in this tent on the AT and I have stayed dry every time.  We are talkin VERY long and hard rain storms and I stayed dry when all others did not. 
Not only has it proven itself from rain above but water below.  The 4 inch bathtub floor has shed water when it was rushing by my tent.
There was one trip in particular that afterwards, I was certainly confident in my tents ability to survive the storm.  I set my tent up on Big Hump Mountain, N.C.  The wind was some of the strongest I have ever felt and for a good bit of the night I was quite worried about my freestanding tarptent on the 5587FT summit.  When morning came and the tent had stood all night I was quite impressed.  The next night, thunderstorms…This tent is Bomb Proof.
Timely Setup:  In the pouring down rain it takes me 3 minutes to set this tent up. If you fold it correctly beforehand you can set it up without getting the inside wet.  The tent comes with flimsy poles and I would say Trekking poles are almost required for any kind of stability at all.
Takedown folding should be done in a rolling manner by folding in half using the two kick legs and then wrapping the rolled tent with the tension cords.
Space:  For a lightweight tent this thing has ample room. I can fit myself, a friend, both our gear and two full size dogs, and still am very comfortable. 
Lastly is customer support.  When you call Tarptent Henry Shires himself answers the phone.  And I appreciate that.