User Review:
The North Face Arcus 23
Rating:


Source: bought it new
Price Paid: $219.99

Summary
Appears to be the "Next-Gen" version of the staple Tadpole 23. The basic canopy borrows much from the "Tadpole," while the color scheme comes directly from the "Kings Canyon" models, and the upgrades - in terms of both weight and functionality - surpass any of its TNF predecessors.
Pros
Vastly improves upon the Tadpole 23 design
Numerous ventilation features and points
Assembles quickly and easily
Extensive use of siliconized nylon reduces weight
Easily and highly packable
Cons
Rare, prototype design not in production or mass-produced
Only one, single front entryway
Only one small, front, triangular-shaped vestibule
Like all TNF tents, requires more stakes than are included
I'm not a collector, but — as I've mentioned before — my penchant for discontinued and rare tents precedes me. This is the "Arcus," a sales sample and what appears to be a one-off, prototype model that was never put into production, nor was it ever manufactured on any sort of a scale.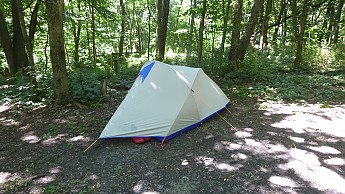 The stuff sack and tent simply read "Arcus," and - all the more strangely - are written in a "Comic Sans" font. If I was in charge of overseeing the company's typeface, well, I sure as heck wouldn't let my tents leave the factory emblazoned with Comic Sans, that's for darn sure. That said, you can safely bet this is either one-of-a-kind, or close to it.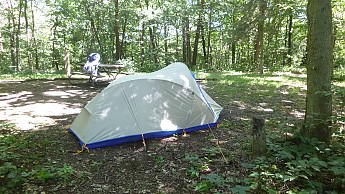 The closest possible relative of this tent? The Tadpole 23. 
I'll take to calling this the "Arcus 23," as it's also a 2-person, 3-pole design.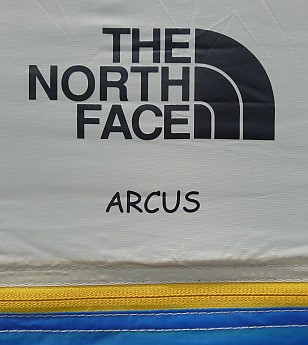 SIZE AND WEIGHT
Packed Size: 22" L X 6" DIA
Packed Weight: 4 lbs 8 oz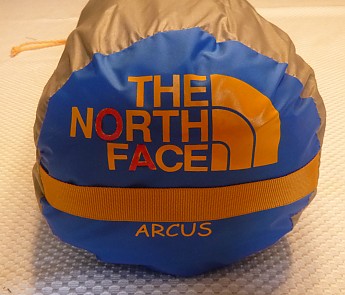 The stuff sacks are all made from siliconized nylon. Not only does it have the distinct advantage of being more water-resistant than your typical nylon, but it greatly reduces the weight. To boot, the lack of thickness makes it all the more packable.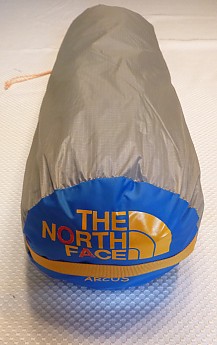 TNF was so mindful of weight that they've even made the plastic cinches [on the stuff sacks] smaller. Not like I've ever been the type to break down my weight into grams, but for those of you gram-weenies...looks like they've started to keep you in mind. 
COMPONENTS
Included are the:
1.) Canopy
2.) Rainfly
3.) 3 DAC Featherlite Aluminum Poles
4.) 9 Aluminum Stakes - 5 of mine were the DAC "J-Stake" and 4 were a "Shepherd's Hook" style
The poles and stakes each have their own stuff sacks, and all the aforementioned components pack into your typical TNF stuff sack.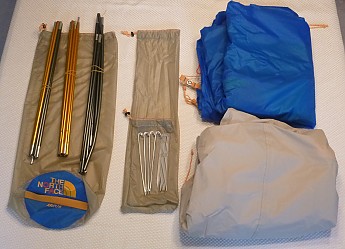 Much like my last review for a TNF tent, this tent's main stuff sack lacks compression straps. If you're backpacking, you're far better off ditching all the sacks and stuffing this straight into your pack. Without being obligated to pack it back in a "Jelly Roll" shape, you can REALLY pack/fold/stuff this down. The length of the poles is really the only thing holding this back from being packed in a smaller stuff sack. 
CANOPY
Approximate Length: 86" @ Longest Point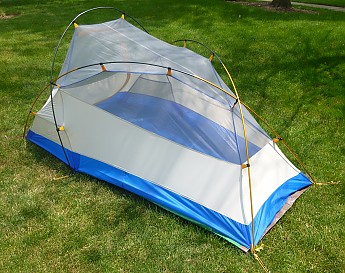 Approximate Width: 48" @ Widest Point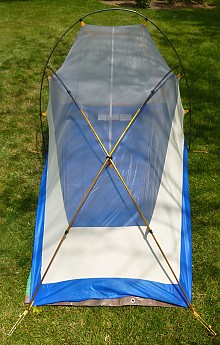 Approximate Height: 38" @ Highest Interior Point, Measured Floor-to-Ceiling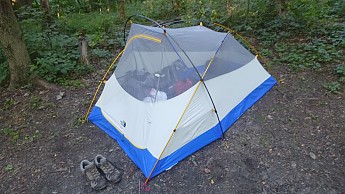 This tent is, without any doubt, the easiest and quickest-pitching tent I've ever owned.
As far as assembly goes, this thing's able to be pitched in five minutes, flat.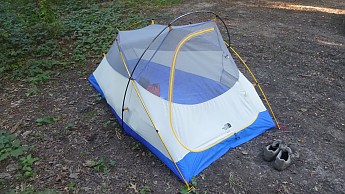 What makes this the canopy interesting? TNF has actually regressed in their design to make this canopy half-fabric and half-mesh. It's something you used to see in older models that seemed to be phased-out for the full-mesh canopies we know and use today. At first glance, sure, it's a cause for concern - especially if you plan on getting your money's worth and using this as a true, two-person tent. All that body heat in that little space? I know it raised a red flag for me. Luckily, they thought through this problem, and offer more venting options on this small tent than I've seen on ones four times its size.
I don't know what people expect when they're trying to go as small and as light as possible, but I read a lot of complaints about single-entryway tents. Buying this tent, I knew full well what I was getting myself into, and really...do you think the addition of a second door and vestibule are the keys to you cutting ounces? Probably not. Had TNF not given this tent as many vents as it has, this would be a problem. However, there're more ways to vent a tent than by simply adding another door. How? I'll get to 'em in a bit. Don't rush it.
POLES - DAC Aluminum Press-Fit (X3)
This is a tough tent to review, because the specifications I am listing and making are based purely on observation and whatever pre-existing knowledge I have on TNF's tents.
The poles are DAC Press-Fit poles, but these seem lighter than most TNF poles and I would venture to say they are the same, Featherlite DSL material as was used for the "Sputnik" and "Phoenix" tents. This would be in-keeping with the obvious effort they've made to reduce the weight on this tent.
The two full-length poles are a unique, two-tone color (gold and charcoal). The pole propping up the front of the tent is (again, much like the "Sputnik") a pre-bent pole that may even be a "Combi-Pole," whose diameter widens and narrows to accommodate the tighter bend required of it.
CLIPS
TNF has ditched their bulkier "Twist Clips" for a smaller, more compact design. These aren't the "Cam-Action" clips as used on the "Sputnik" and "Phoenix," and - although slightly larger in size - are much easier to attach and remove.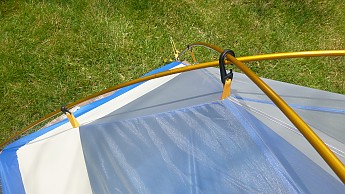 Paired with these clips are 3 carabiner-style clips I've seen used on their mountaineering tents: larger and hook-shaped, they grab around two poles at a time instead of one. Not only is it more time efficient to clip onto two poles at once, it's more weight-efficient, too (1 clip replaces 2). This is just one example of how many features this tent offers, and how little redundancies it suffers from (if any at all).
STAKES
Aluminum Stakes - DAC "J-Stakes" (X5) and "Shepherd's Hook" Style Stakes (X4)
Do they match? Nope.
Do they get the job done? Absolutely.
As always, my preference lies in the DAC stakes, simply because they're small, lightweight, and REALLY hard to bend. As lightweight and shiny as the "Shepherd's Hook" style stakes were, well, they bent after only being used in a backyard test pitch. 
If I haven't said it before, or said it enough, do yourselves a favor and go out and buy a pack or two of extra "J-Stakes." Even if you don't use them for your tent, they're a lot better to stake your tarps down with than those plastic ones from Coughlan's. Just sayin'. 
So, really, no stake is a good stake unless it's a DAC. Take note, TNF. This isn't the first time y'all have let me down by including lackluster stakes with my tents.
I've bought and sold several TNF tents, and have had the sampler platter of tent stakes come with them: from bent steel, to Shepherd's Hook aluminum, to the tried-and-true DAC "J-Stake." After being less than impressed with anything but the J-Stakes? I bought a whole bunch of them and take with me however many I need for the tent I'm backpacking with. They're much easier to clean off than MSR Groundhog stakes, or the like, and stack easily. I keep mine in a Zip-Loc "Snack" sized bag, so the dirt doesn't get mixed into the rest my pack.
VESTIBULE
Approximate Size: Extends 28" from Front of Tent, 43" Wide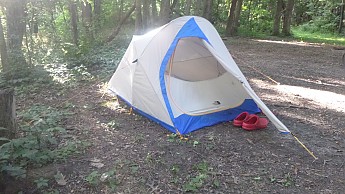 The best way I can describe this tent - all kidding aside - is by calling it the "Snub Nose" version of the Tadpole 23. Or what the Tadpole would look like, if it had a nose job.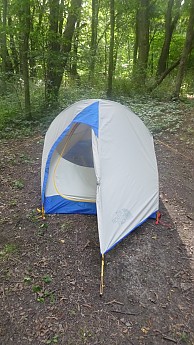 This newer model seems to have had a bit of rhinoplasty performed on it. Instead of the long, trademark vestibule seen on the Tadpole (that stakes out at two points), this vestibule is much shorter, and only has one, single stake-out point at the front. I guess if they were trying to cut weight, well, this was an easy place to do it.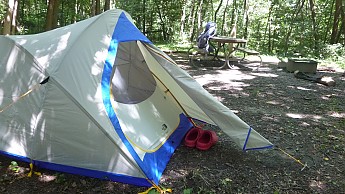 Now, I don't mind the fact there's only one door and one side through which you can enter the vestibule.
Losing an extra zipper meant losing a little more weight. However, in making it as short as it is, this vestibule can only truthfully hold one pack. I'm sure you could cram two in, or stack one atop another, but doing so would be building an obstacle course for yourself, and making entering and exiting the tent a royal pain in the rear.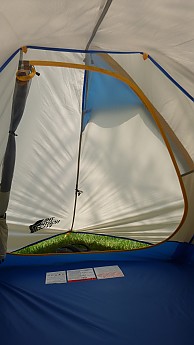 With that said, let's take a look inside...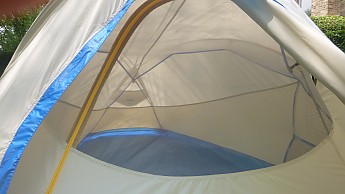 INTERIOR SHAPE AND SIZE
The interior is probably the part most similar to its predecessor.
The floor plan is an elongated hexagon, and - without any better a way of putting it - shaped like a coffin: widest in the middle, narrower at the head, and at its most narrow on the foot end.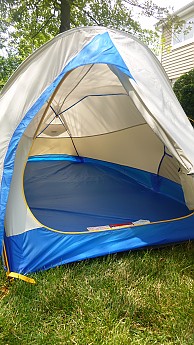 COMFORT AND LIVABILITY
You may want to save this tent for trips with the significant other (and not your fishing or hunting buddies), but it can actually fit two people. Now, because of the taper toward the foot end, I don't think it could hold two rectangular NeoAir Trekker pads, placed side-by-side. If you've mummy-shaped sleeping pads, you may be able to dovetail yourselves inside, with each camper's head at opposite ends.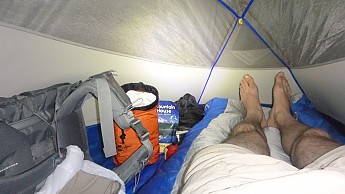 I will say this much, however: being six feet tall, I can sleep comfortably in here without my head or feet touching the walls. More importantly, and impressively, I am able to fully sit up at the head end of this tent without the top of my head touching mesh.
STORAGE
Shortcomings of the small vestibule aside, the tent offers as much as any tent its size can: there's a mesh pocket at the floor level on each side of the head end (nearest the front door), as well as 2 gear loops (one directly above each of the mesh pockets).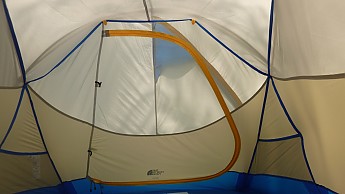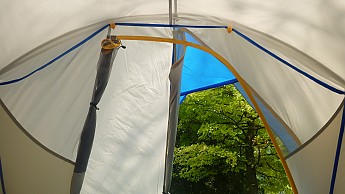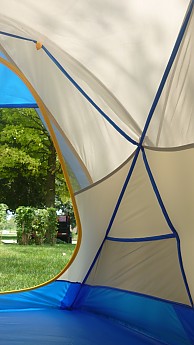 A third gear loop can be found at the foot end. The gear loops are all so far pushed into the corners of this tent that hanging a headlamp (or small lantern) sends half the light into the tent walls. I'd suggest running a length of paracord from the foot-end loop up to one of the head-end loops.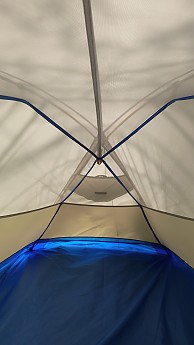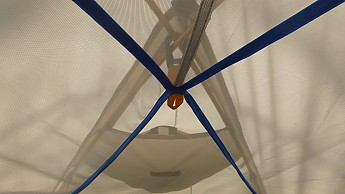 VENTILATION
This is, by far and wide, the single most innovative part of this re-design. I was amazed to see how smartly they went about making sure this tent was able to breathe. Most small tents like this don't have much beyond a vestibule door to zip up or down, and that's as much as can be done. 
There are 3 unique venting locations:
1.) FRONT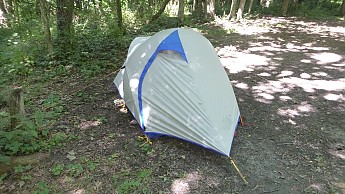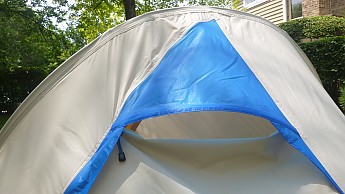 A small, hoop-shaped canopy protects the top of the vestibule opening, and a zipper at the top can be drawn down to allow air in, while keeping rain out.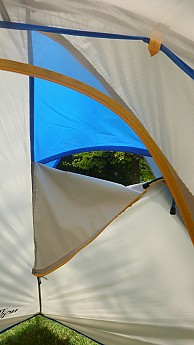 View of vent from inside tent, in open position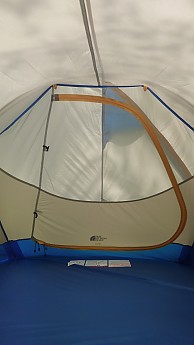 Vent shown in closed position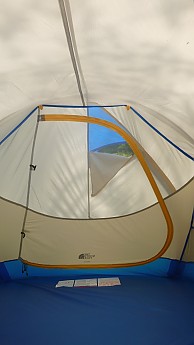 Vent shown in open position
2.) REAR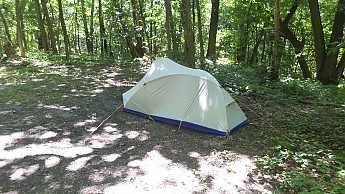 At the foot end, a vent can be kept in the closed position and velcro'ed down, or can be opened and propped-up with the help of a small strut support, also held in place with velcro.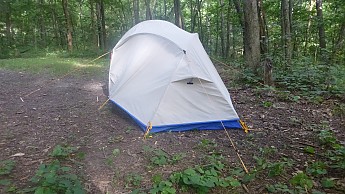 This establishes a cross-ventilation through the full length of the tent. 
3.) SIDES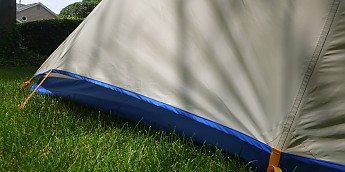 On the bottom of the rain fly are two loops, seemingly useless, unable to be attached to the poles. Stake these out some distance from the side walls, and it allows air to enter from below. The solid fabric side walls of the tent keep rain or sand out, while allowing air to enter from underneath. 
NIGHT VISIBILITY
Man, so much as a pass of your headlamp makes this tent light up like an airport runway at night.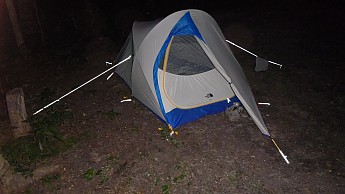 The reflective guy lines, zipper pulls, and stake loops all glow.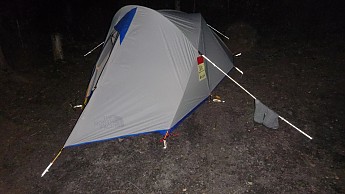 That's about as much as I can say about it, but when you've made camp in the middle of the woods, it's nice to find your way home so easily.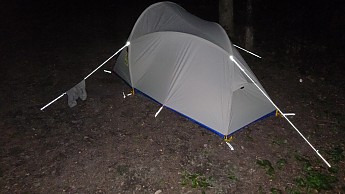 MY TWO CENTS
This tent came along with me to the Mississippi Palisades, where I spent an overnight at one of the park's "primitive" sites along the North Trail System.
The site was mostly flat and largely shaded. Pitching it was no problem at all, although be sure you've found a spot with consistently-packed ground. The dirt by the side "vent" loops was loosely packed and I'd a hard time finding solid ground within the short leash the loop provides.
12 stake-out points makes this thing bomber, and the "beak" at the front end cuts wind brilliantly. I know extra stakes mean extra weight, but I'd rather sleep soundly than have my walls flapping in the wind. A solid stake job also improves the ventilation, too.
The weather had a high in the low 80's, and a low in the upper 50's. Quite a temperature range for the middle of summer. The skies were clear and the sun, bright. The light color of the fly definitely was appreciated, here, and it tended to reflect than sun than absorb it (my car camping tent is a TNF Dbl Headed Toad 44, and the dark green and brown make it a greenhouse on warm, sunny days). 
One could argue the off-white color of the rain fly isn't the best idea if you're planning on sleeping in. Then again, this is designed as a backpacking tent and - I'd hope - that if you were on the trail and had someplace to be, you'd be waking up early, anyhow. Consider it a built-in alarm clock. 
Also helped that I left the vestibule door tied-back during the day and propped the foot end vent open, allowing a cross-flow to ventilate the tent.
My only mistake? It got chilly that night, and - while I kept the foot end vent open overnight - I sealed up the front vestibule completely and zippered the front "hoop" vent closed. Woke up in the morning to find condensation on the underside of the vestibule. Not enough to collect and drip only anything, or for a puddle to form, but enough to necessitate a pack towel. Wiped it down and it was ready for the stuff sack.
Even if the Arcus 23 never makes it into production, I hope some variant of the design finds its way onto store shelves, or — at the very least — someone important from TNF reads this review and modifies their designs in light of it.