User Review:
The North Face Him 35
Rating:


Price Paid: $350 - outlet

I have had this tent now for about 6 months and love it. I tried the Mountain 25 and immediately returned it after setting it up in my garage. Just too small. I like winter camping and need the extra gear room plus extra height so I can change FAST in sub zero weather.
Ventilation options are great once you learn them. There are so many flaps and zippers, I couldn't imaging any time when you couldn't get perfect airflow. I had 2 weekends in January and each got into single digits at night. By the end of the 2nd weekend, my inside was frost free.
Setting it up is... OK. After about 15 times, I really have it down and I mark things myself with colored cable ties. The instructions stink and you cannot find tips anywhere on the internet.  PRACTICE, PRACTICE, PRACTICE.
If I had it to do all over again, I'd buy this thing 10 times over. Great storage, vestibule rocks, very sound and tight when setup and just a comfort knowing it'll take most of what weather will dish out.
Update: November 24, 2011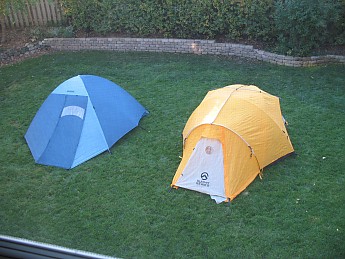 I had intended to use my other summer tent in hot weather but decided to take this for a spin in summer. AWESOME. Because it is designed for rough conditions, I assumed it would be hotter in summer.
1st- It's yellow which may help a little but mostly, it has so may ventilation options and the fly is
also so well vented, I can configure it to catch most any breeze yet know I am also ready should Mother Nature do what Mother Nature does best - Test You!
The one thing I did need to change was add a little extra cord to the fly's mid-tent stake out. It is too short to pull it out away from the tent and still stake. Just bring 3 feet of parachute cord and you're good.
Also, the tent has a rain skirt around the vestibule area (great touch) that I tuck in and up so I get can airflow even through these areas.
One thing I did notice more in summer was how short the tent is. I'm only 5'8" but got a great deal on an EXPED Synmat 9LW (long and wide). It's 77.5" long and just fits. I guess I still harbor old camping fears of touching the sides of the canvas tents in rain so it shouldn't matter in current, double walled tents. Maybe I never noticed it in all my winter camping because I have so many layers under me that I just assumed I'd be wall to wall.
So, so far, it has proved well ventilated and comfortable in 10 below zero to 92 above PLUS I get the added benefit of knowing it will take a ton of Mom Nature's excitement. I really don't know why North Face discontinued it.