The North Face
Manta Ray 33
2

reviews

5-star:

0

4-star:

2

3-star:

0

2-star:

0

1-star:

0
Reviews
You may not be able to fit three people in this "hammerhead"…
Rating:


Source: bought it new
Price Paid: $279.99

Summary
You may not be able to fit three people in this "hammerhead" style, T-shaped tent, but you will comfortably fit two plus gear in the roomy interior and two vestibules. When I was a car camper, this was and will always be my favorite tent.
Pros
Freestanding (modified dome shape)
Easy, All-Clip pitch
Unique, "T" shape design
Built-in gear loft
2 generously-sized vestibules
Ample storage space
Buttery-smooth, glow-in-the-dark zipper pulls
Cons
Unzipped vestibules let rain in
Discontinued model
TNF footprint hard to find
Includes 8 Stakes (16 Required)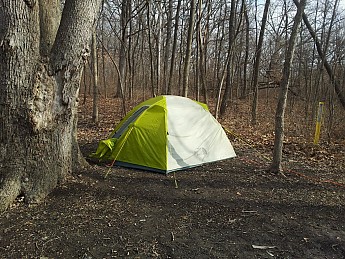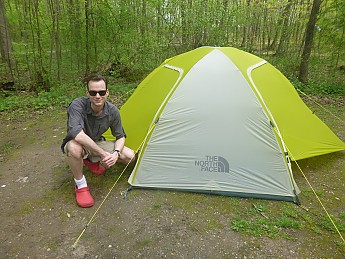 PURCHASE AND AVAILABILITY
This is a discontinued model from 2009.
I'm a sucker for them, because I don't like rockin' the same model tent as everyone around me. While individuality is nice, being able to find a footprint is sometimes nicer. Much like the tent, the footprint is out of production. I had to settle for a hardware store tarp, and use the 'ol "fold-'n-tuck" method instead. 
PACKABILITY
Packed Size: 23.5" x 7"
Trail Weight: 6 lbs 7 oz
Total Weight: 6 lbs 13 oz
I have to give TNF a pat on the back for making tents that actually fit in their stuff sacks. I've been able to fold and roll my tent down, successfully, every time. Although the main stuff sack could be considered a "compression" bag, it isn't going to make this tent small enough to fit in your backpack. Split between two packs, however, it may be manageable but bulky. The poles and stakes each come in individual stuff sacks.
BODY/CANOPY
Canopy: 40D 210T Nylon Ripstop
Floor: 70D 201T Nylon Taffeta w/ 5000mm PU coating, Fully-Taped Ext. Prayer-Bound
Floor Size: 51.2 sq ft (92" W x 108" L)
Interior Height: 44"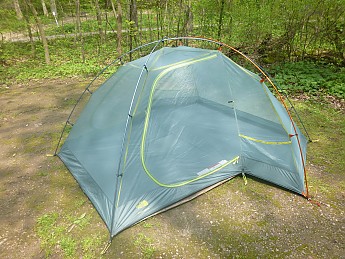 This is a dome-shaped, freestanding tent, easy to pitch even on windy days, and even by one's lonesome.
If the design looks familiar, that's because it is: the basic shape and structure are borrowed from TNF's older, "Peregrine" model.
It's a "T" shape, or as some call it, a "Hammerhead" design.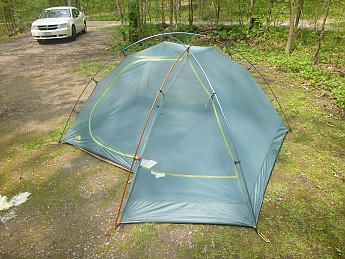 "33" actually does mean something: the first number denotes the capacity, and the second, the number of poles.
That makes this a 3-person, 3-pole setup.
This model is a definite improvement upon the Peregrine design.
The MR33 uses clips instead of pole sleeves, has an all-mesh canopy, and the vestibules extend outward from the walls (in the Peregrine, they simply spanned the difference between them).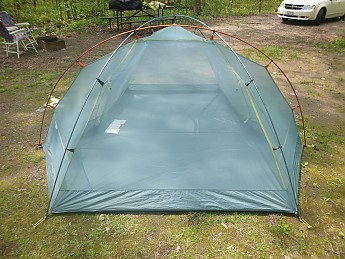 POLES (X3)
3 DAC Featherlite Poles (8.84mm diameter/ea)
The blue-grey poles are attached first to support the long end of the "T," and the orange pole goes atop it to support the top of the "T."
What really sells me on this model is the "Jake's Foot."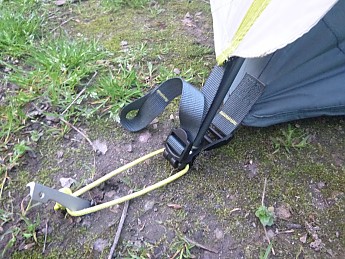 Instead of worrying about pole ends slipping out of their grommets, the ends of these poles are ball-shaped, and they plug into a plastic "socket." Once attached, you can walk around to the other side and plug in the other end. This makes it very easy to assemble, even on windy days.
Another small benefit to using poles with ball-shaped ends? There's no concave surface for dirt to find its way into. 
Pole attachment points are on diagonals from another, and I was able to assemble this without any help, straight out of the bag. No instructions included or needed. 
Note the color-coding between the rainfly attachment, pole, and canopy attachment. The fabric tabs that the "twist clips" are sewn onto also match the pole colors.
CLIPS
Twist Clips
All clips. No sleeves.
Over time, you'll figure out that positioning certain clips on certain sides of poles will create better tension. But even if you don't, you'll be able to set this up without much explanation at all. Hang the clip at the center (where the blue-grey poles cross) and work your way outward. 
STAKES (X8 Included - X16 Required)
DAC Aluminum TNF "J-Stakes"
If you do the math, this tent has 16 TOTAL stake-out points: 8 for the tent, another 2 for the vestibules, and an additional 6 for the rainfly's guy-lines. The 8 this tent came with wouldn't sufficiently pitch this tent: you would have to sacrifice staking-down 2 points on the body to be able to stake the vestibules, which is absolutely necessary. The side vestibules are one of the best features of this tent.
Another note: the stakes provided do NOT have pull loops on them, which makes removal difficult in hard or cold ground. There are holes to tie your own paracord through, however.
STORAGE - VESTIBULES (X2)
Vestibule Area: 27.2 sq. ft. (13.6 + 13.6)
I should make the obligatory mention of their size in practical terms: you can easily rest your pack in the corner, leave your shoes inside on the floor, and still have room to enter and exit the vestibule without compromising the functionality. Heck, if you've a small dog (or two), they could even call it home for the night. On bug-free nights, I roll back the large, D-shape mesh doors and make the interior extra-roomy.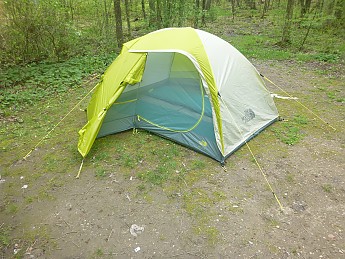 The "wings" of the tent create these nice interior "nightstands," and they are roomy enough to store a pack or duffel. To give ya an idea of interior size: pictured inside are two Therm-a-Rest NeoAir Trekker pads (Regular Size: 72" L x 20" W), which are neither touching the walls nor each other. The picture below is the more "romantic" setup, showing the pads pushed together.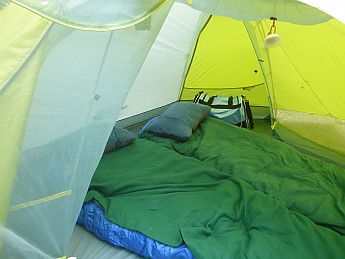 STORAGE - GEAR LOFT AND GEAR LOOPS (X4)
A gear loft is included with the tent, and clipped onto the four gear loops at ceiling level (unclip the loft to use the loops independently and/or to gain more headroom).
It holds a lot. I emptied out all the crap in my pockets into this thing and still had room left up there.
The loft is adjustable and can be raised or lowered to your liking. The adjustment line is also a pretty darn convenient, central place to hang a small lantern.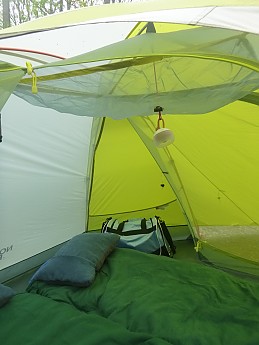 STORAGE - INTERIOR POCKETS (X2)
Additionally, there are built-in pockets on each side of the "T" (behind the duffel bag in the above photo)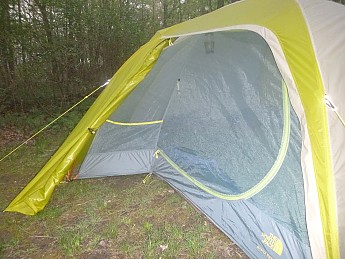 ...as well as mesh pockets adjacent to the doors, inside the vestibules.
RAINFLY
480D 238T Siliconized Nylon w/ 1500mm PU coating
I've had various tents over the years, each with an equally awkward way of attaching the fly to the body (or not). The color coding of this tent comes in handy, here, more than anyplace else. Simply clip the fly onto the plastic Jake's Feet (shown above in the "Poles" section), and gently pull to adjust the tension and tautness of the pitch.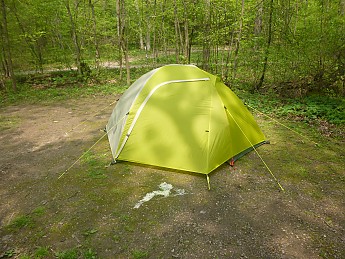 There are two permanent vents built into the rainfly, with a half-hoop-shaped stiffener sewn into them to maintain their rigidity.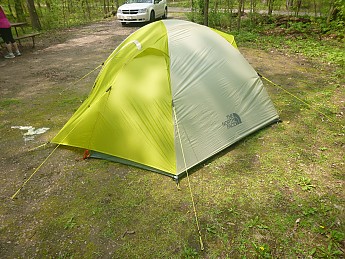 Speaking of!
VENTILATION
High/Low Ventilation
I'd say more than plenty, and condensation is not a problem I've had with this tent.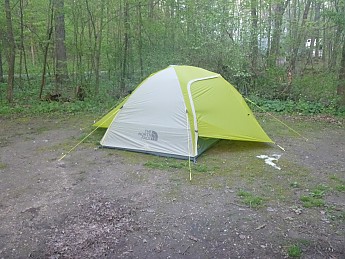 Apart from the rainfly vents, the 2 vestibule doors offer a unique high-low combination.
Dual zippers allow you to crack the top of the vestibule door while simultaneously cracking the bottom.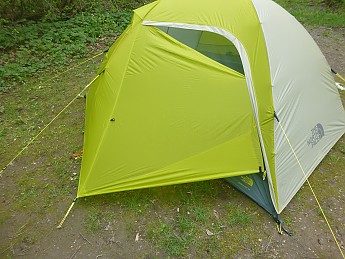 Use the hook sewn onto the bottom flap of the door and attach it to the loop on the back side to keep the vent open while keeping the door shut.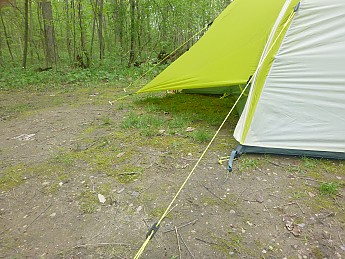 I should add, too, that my past camping trips have always seen my tents completely zipped shut.
On a recent trip, the evening forecast was clear and dry (with highs in the 80's and lows in the 60's), so I did something I never have: rolled back both the vestibule doors and tied them off. Since the vestibules are placed on both sides of the long end of the "T," this routes airflow through the largest section of the tent. The breeze was nice, but looking out through the treetops at the night sky was nicer, still. 
WEATHER RESISTANCE AND PERFORMANCE
I've taken this 3-season tent out for several weekend trips, all of which have had at least one rainy night. One time I took it on a weekend trip to Starved Rock State Park's Campground. We had thunderstorms that night, and the entire day prior brought sustained 40-50MPH winds.
The wind tore the grommets from the tarp I'd hung over the tent and rendered it nothing more than an REI return. 
This tent stayed perfectly still. No flapping, no noise, nothing.
How bomber is this tent? I'm guessing it has something to do with the fact they gave a 3-person tent 16 stake-out points, but that's just me. 
Another reviewer did point out that - in a rainstorm - the vestibule doors aren't designed to shed water away from the entrances. You could call it a flaw, but I would say that would be up to the discretion of the user. If you're mindful about where the water falls, it's something easy to work around. Support the door as you enter/exit.
We'd severe thunderstorms that night, and it got down to the upper 30's come morning. The only place water came through was on the wall that we both negligently let our feet touch while we slept (nothing to do with the size of the interior and everything to do with how tired we were). No condensation, though!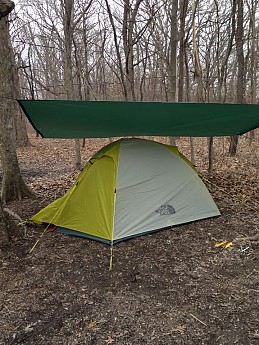 MY TWO CENTS
This tent is my go-to. It is more than enough room for myself and another person, including room for gear and boots. Taking advantage of all the stake out points will result in a bomber pitch. You get a whole lot of bang for your buck with the Manta Ray 33, and really, my only regret was in not buying a second one since this is a discontinued model.
That said, if ever you've the chance to purchase one of these, be sure you do.
TESTING LOCATIONS
Starved Rock State Park
Oglesby, IL
Starved Rock SP Campground, Site #97
April 2013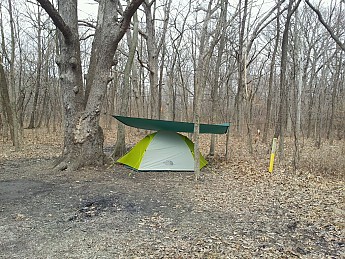 Devil's Lake State Park
Baraboo, WI
Ice Age Campground, Site #521
May 2013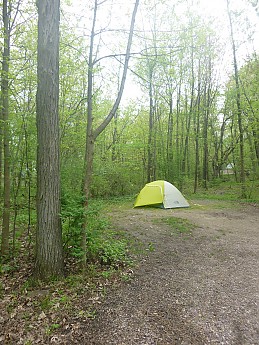 Excellent tent except when it rains!! The tent is…
Rating:


Design: three-season freestanding
Sleeps: 2
Ease of Setup: Very fast and easy
Weight: 6-7 lbs
Price Paid: $500

Excellent tent except when it rains!!
The tent is really water-proof as long as you don't open the doors. The design does not allow the water to go around the doors, it pours directly on you. If the weather is not certain, you can't sleep with those doors open because there's a chance of you waking up all wet!
But, if you use another roof, then you'll be ok.
The «T» shape provides lots of space at the head.
Retailers' Descriptions
Here's what other sites are saying:
Elegant use of floor space perfectly accommodates three people and their gear, or two people and a dog, while in the backcountry. This well-designed floor plan includes two vestibules, two doors, and a variety of user-friendly features. Color-coded poles, canopy, and fly foster an easy setup, and new Twist Clips are extremely light and easy to clip into poles.
- The North Face
A built-in gear loft and a unique floor design make it easy to stash gear in The North Face Manta Ray 33 Tent without sacrificing personal space. Of course, you also get two large vestibules for all three campers' stuff. The Manta Ray uses two big D doors to make in-and-out easy and a color-coded pitch system so set-up is a breeze. The North Face's high-low venting system keeps air flowing throughout the night.
- Backcountry.com
When you're two and want to be three, The North Face Manta Ray 33 Tent makes room for your friend who doesn't mind being the third wheel. With an elegant 'T' floor plan, the large interior volume allows for a unique cross sleeping pattern for three-persons, while two convenient vestibules keep all your gear organized. With a high-low venting system this light, strong design features overhead pockets for stowing headlamps and fragile items, abundant gear loops for hanging and drying, and a built-in gearloft. Three's company.
- Altrec Outdoors
On Sale. Free Shipping. The North Face Manta Ray 33 - 3 Person Tent (Fall 2009 Discontinued) Manta Ray 33 - 3 Person Tent by The North Face Features: DAC Featherlite poles Ultralight Twist Clip canopy pitch system Ingenious Jake's Foot at tent floor corners Comprehensive color-coded pitch system includes poles, canopy, and fly Two large vestibules matched with two large D doors Thoughtful outside pocket in key vestibule locations Fully taped external prayer-bound floor High-low venting system harnesses convection and crossflow Convenient overhead pockets stow headlamps and fragile items Abundant gear loops Built-in gearloft Compression sack included Capacity: 3 Fabric: canopy: 40D 210T nylon ripstop Fabric: floor: 70D 210T nylon taffeta with 5000 mm PU coating Fabric: fly: 40D 238T siliconized nylon with 1500 mm PU coating Floor Area: 51.5 ft2 (4.8 m2) Poles: number: 3 diameter: 8.84 mm Stuffed Size: 23.5' x 7" (60 cm x 18 cm) Vestibule Area: 27 ft2 (2.5 m2) Weight: trail weight: 6 lbs 7 oz (2.9 kg) total weight: 6 lbs 13 oz (3.09 kg)
- Moosejaw
Featuring a light, strong design, the 3-person Manta Ray 33 from The North Face makes elegant use of floorspace, large interior volume, and two convenient vestibules. Three DAC Featherlite poles. Ultralight Twist clip canopy pitch system for ease of set up. Ingenious "Jake's Foot" fly tensioning system at the tent corners keeps the canopy taught and the structure sound regardless of weather. Color coding makes it easy to place the poles in the right position during set up. Two large doors for easy access from either side of the tent. Two large vestibules offer plenty of space for gear storage. High-low venting system harnesses convection and crossflow to keep condensation to a minimum. Convenient overhead pockets for stowing headlamps and fragile items.
- EMS
The North Face Manta Ray 33
Discontinued
The Manta Ray 33 has been discontinued.
previously retailed for:
$249.99 - $389.00
The North Face Manta Ray 33 is not available from the stores we monitor. It was last seen May 13, 2010 at The North Face.
If you're looking for a new three-season tent, check out the best reviewed current models.