User Review:
Therm-a-Rest Compack Chair
Rating:


Source: bought it new
Price Paid: $12

Summary
This chair is a backpacking item that manages to accomplish that elusive "ultra-light yet luxurious" combination, finally allowing a backpacker to carry a little extra comfort without significant burden to pack capacity in terms of weight or volume. If you tire of sitting on a rough rock or knotted tree stump after a 12-15 mile hike into the wilderness, do yourself a favor and get this chair. It works with any type of pad that has a width of 20" or 25" (depending on which size you buy).
Pros
True to its name, it is a compact design when not in use
Durable, high quality components with thoughtful reinforcements
Very lightweight (6.5 oz with carrying sack)
Very comfortable due to its adjustability
Highly water resistent
Fits any type and length of sleeping pad
Cons
Aluminum stays cannot be removed on last year's model
Not really adjustable for pad width. It's either a 20" or a 25"
You could possibly puncture your inflatable pad
Ease of Use:
This thing is so lightweight (6.5 oz) and "Compack"(t) for travel: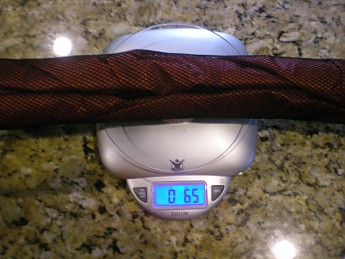 The chair actually compresses down smaller in diameter than the included stuff sack's dimensions, so you could literally make it disappear in some corner of your pack or roll it into the middle of your pad. The included loop on the storage sack allows you to hang this chair on the outside of your pack if you so desire...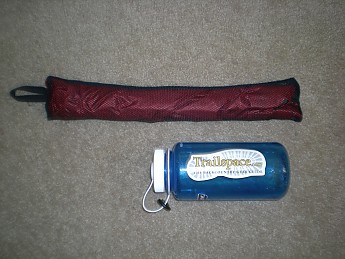 Setup is EASY - simply remove this chair from its stuff sack, and lay it out. Loosen the middle strap. Partially inflate your sleeping pad and slide it into the chair, with the foot-end pf the pad as the seat bottom. If the sleeping pad is full length, then you may want to fold it in half before tucking it into the sleeve. Double padding for your tired rear? You betcha!
Next, slide the top of the pad into the top sleeve so the the valve is exposed and allows for inflation adjustments to suit your taste. When using a regular length pad (72" or so), If prefer to fold the top half like the bottom half so I double up on comfort. Tighten the center strap, buckle both side straps, and take a seat! A thicker sleeping pad (like my 1.5" rectangular Alps Mountaineering Light Weight Pad) may take a little extra effort to insert into the Compack chair sleeves, but doing so comes with the promise of supreme comfort.
Here is a link to the chair's setup:
Once you are seated, you may have to tighten the side straps depending on your desired position. Thankfully, this is easy to do. On occasion, you may also have to wiggle side-to-side to get the stays properly positioned, but believe me when I tell you that this is an easy exercise.
Chair with full-length pad folded to double-up cushioning on seat bottom and backrest: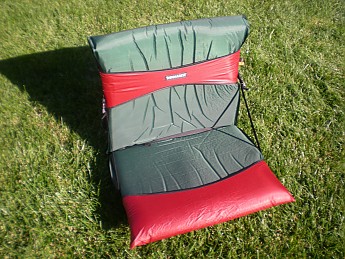 Features:
The real beauty is in the chair's comfort adjustments despite its minimalist design. Want firmer cushioning? Blow some more air into the pad. Want it softer? Release some air through the valve. Want extended back support? Then fold the pad less so that the backrest sticks up higher and inflate the pad firm. Is the ground cold and wet or covered in snow, so you don't want your feet on it? Then create a lounger by flipping the chair upside down and let the pad stick out at length so your feet are protected. 
What if you really want to lighten things up and use a shorty pad or a standard Blue Ensolite pad? No problem, the chair will take either type. However, depending on your weight and build, the thin nature of a blue pad or an ultralight short pad will expose you to some possible pressure being felt at the aluminum stays. Even so, it is still much more comfortable than sitting on the ground, a rock, or a sappy tree trunk with no back support. 
Picture of the backrest and connection points for adjustable side-straps (black triangular fabric):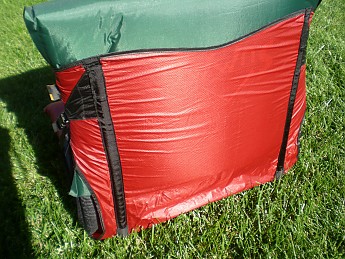 Construction & Durability:
Typical of my experiences with Thermarest products, this chair is well built using quality materials. Genuine Cordura Silnylon is used for the chair fabric, with robust stitching reinforcements and thick hypalon patches at the contact points between the stays and the ground. The tubular DAC stays are strong and lightweight.
I'm around 195 pounds fully clothed, and despite plopping myself roughly into the chair after a long day of activity, The stays are still perfectly straight. I do use a 2 square foot piece of Tyvek to protect the strong but thin fabric when I know I won't have any soft campsite areas to sit on. It also provides me with some security against puncturing my sleeping pad, with a weight penalty of 0.6 ounces. So far the chair has held up without signs of wear at contact points.
Cordura Fabric and side adjustment strap/buckle detail: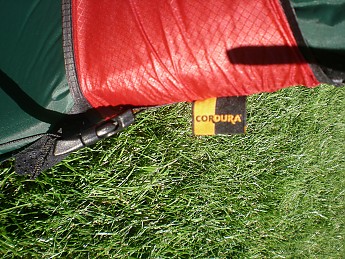 View of under-side of Compack chair, showing Hypalon contact patches at termination points of the stays: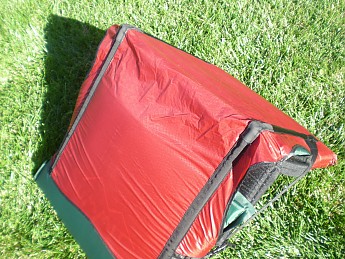 Conditions: 
I've used this car camping three times and backpacking on two trips of 2-3 nights, using self-inflating pads, blue foam pads, and inflatable pads, and this chair has proven itself as a vital part of recovery after a long day. The fact that it doubles the uses of my sleeping pad without considerable weight penalties is just icing on the cake.
I deducted a half star because the "care and cleaning instructions" say to remove the stays before hand-washing in mild detergent. Well there is no way to remove the stays on my Compack chair (maybe this year's version allows you to do so). Therefore this chair just misses a perfect rating by that much. 
Unless you are are hard-core minimalist UL'er and refuse to take anything extra on your backpacking trips, you should get this chair. It's that good. I now have three of them. 
Where to Buy
sponsored links
Help support Trailspace by making your next purchase through one of the links above.