User Review:
Therm-a-Rest Compressible Pillow
Rating:


Source: bought it used
Price Paid: $30 for 2 Pillows

Summary
It pains me to do it — especially because I LOVE my NeoAir Trekker pad — but this is probably the first piece of gear I've purchased and am not completely in love with. Sure, I was a bonehead and didn't have the chance to test it before buying it, but I never expected foam to be this firm in a pillow. Comfort aside, it truly is compressible and packs down to less than half its expanded size.
Pros
Compresses into built-in storage pocket
Sueded fabric easy to keep clean
Denim Blue is about as American a color as can be
Cons
Foam is too firm for my liking
Loft is too high for my liking
Too bulky for backpacking
I'm sure y'all wondered when it would happen, and — here we go — I've finally had to review a piece of gear I'm not 100% completely, head-over-heels in love with. This is my personal preference.
The way we all sleep has a lot to do with personal preference, and while the subject is highly subjective, this review is my honest impression of the product.
That said, there's always a lesson to be learned and a positive to take away from a negative experience. Mind you, I don't hate this pillow outright and I've not used it for kindling - yet. 
My biggest mistake was buying this pillow online, denying myself the opportunity to test it out first inside a brick-and-mortar store. For those of you that love winning the lowest-priced auctions, or love the convenience of door-to-door shipping, well...this goes to show there are still times it's best to experience something in-person.
In terms of appearances, it's a pleasant pillow. I bought a set of the medium-sized pillows in Denim Blue. I love blue jeans, and I love America, so naturally, it seemed like a good fit. The sueded fabric is easy to keep clean, and rugged enough to not easily snag or tear.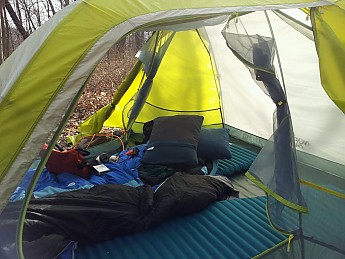 The fabric pillowcase is filled with compressible foam blocks. Simply fold the pillow in half, tuck it in as far as possible into the pouch sewn onto the outside, and tighten the cinch to secure it. Therm-a-Rest was even mindful enough to make the pocket reversible, turning-out to reveal a smoother, silk-like side more suitable for sleeping.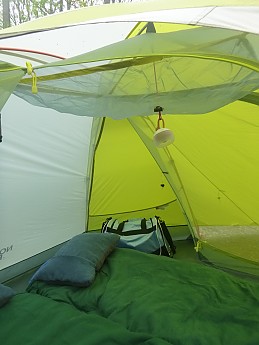 When it comes to sleeping, I usually use one pillow in my bed at home. That said, I don't need a high amount of loft or height to my pillow. This pillow is deceiving in that it remains relatively flat after you've unfolded it. Fluffing it up makes it at least twice as thick. For those of you who prefer that, it's perfect, but for me, it's not only too high a pillow, but too firm of one, too. 
The bulkiness and weight — despite being compressible — would be a concern for me if I thought about taking this with on a backpacking trip. Even for those of you who would find this pillow comfortable, I highly doubt you would be willing to sacrifice the amount of space in your pack (or atop/below it) this pillow would require.
I rate this at 3 stars, right in the middle. While it was my fault for not testing the pillow, the height and firmness are permanent, non-changing features of this pillow. Even when I've tried to keep it flat after unfolding it, the pillow still finds a way to fluff up.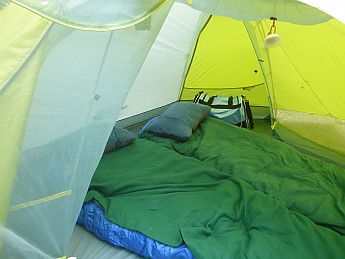 Where to Buy
sponsored links
Help support Trailspace by making your next purchase through one of the links above.