User Review:
Therm-a-Rest NeoAir Trekker
Rating:


Source: bought it new
Price Paid: 65 bucks

Summary
A lightweight sleeping pad weighing in at 19 oz and packs up quite small. Somewhat loud and quite narrow. Very expensive when bought at full price. However, the size and weight are definitely pluses for this sleeping pad.
Pros
Lightweight
Deflated size and small pack size
Thick at 2.5 inches
Cons
Expensive
Narrow
Somewhat loud
Included stuff sack is too big for the actual pad
Did I mention expensive?
I bought the Regular sized Neo Air Trekker on discount from Campsaver.com for around 65 bucks a few months back when they had an added 10% discount on all outlet items.  The pad I bought was an "Irregular" version which meant a further discount. At full price, the pad is over 100 bucks... which seems like A LOT of money for this sleeping pad.
I do not currently use the optional pump for this mattress and I fill the sleeping pad with good ol' lung power.  I haven't really had an issue with blowing up the mattress myself and cannot justify spending more money and increasing pack weight by purchasing the optional pump.  
I've used the Neo Air Trekker in various conditions now, including a most recent trip (7/12-7/13) to Weaver Lake in the Jennie Lakes Wilderness where temps dropped to approximately 45-50 degrees.  Any chill from the ground was not a factor at all.  I believe the new Neo Air Trekker All Seasons have an increased R-value which provides even more warmth at the same weight.  However, the new model is also a whopping $150 retail which I am not prepared to spend.
My first impressions of the mattress was that it was similar to an inflatable pool mattress with tougher materials.  I have not used the lighter, yellow Neo Air version, but supposedly, the Neo Air Trekker is constructed of tougher materials.  As mentioned in previous reviews, the Neo Air Trekker is quite loud.  However, once setup, it is relatively comfortable (esp. compared to CCF pads) given the 2.5" thickness.  
The mattress is a little on the narrow side, but I am of slight build, so it's not too much of a factor for me.  However, ultimate comfort is difficult to achieve on this mattress for side sleepers, due to the narrow construction of the mattress.  It seems as this mattress would be most suitable for sleepers who primarily lie on their backs.  The baffling construction also provides nice back/lumbar support when filled firmly after a long hike.
As aforementioned, the biggest plus sides to this mattress is the weight and the pack size.  While I found the included stuff sack to be too big for the actual mattress, I used the stuff sack from my Patagonia Down Sweater as a stuff sack and it fits perfectly.  Furthermore, this mattress weighs only 19 oz, which is a definite upgrade from my previous self-inflating ALPS Mountaineering "Lightweight" Series Pad which clocked in at over 2 pounds and was very bulky.  However, comfort wise, I would say I preferred the ALPS pad over the Neo Air Trekker, even though the ALPS pad is only listed as 1.5" of thickness from the ground compared to the Neo Air Trekker's 2.5".  The padding within the ALPS pad, as well as the width, seemed more conducive to side-sleepers.
The biggest drawback to this product is the price.  True, I do appreciate that this mattress is made within the United States and I'm all for the increase of manufactured goods within the U.S.  However, at $100+ dollars retail, for essentially some denier polyester and synthetic insulation seems a little much. Of course, if you had the expendable income, price would not be an issue as the weight and pack size would trump the cost. However, I would have a difficult time paying the retail price for this product without any discounts.  
In regards to air leaks, I have not had any of the leakage problems as detailed within other reviews (knock on wood!) as the Neo Air Trekker has held up within a handful of uses. But with the price incurred for these mattresses, I would be quite discouraged if I had experienced air leaks after only a few uses.
Here's a pic at of the NeoAir Trekker inside my tent at Weaver Lake: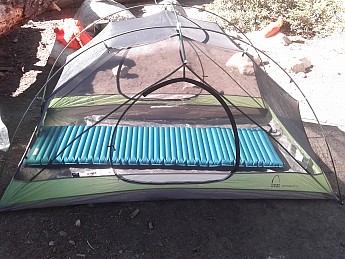 The NeoAir Trekker in the Patagonia Stuff Sack next to a 2L Platypus: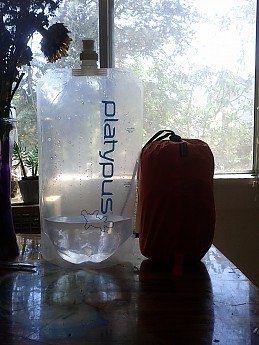 Where to Buy
sponsored links
Help support Trailspace by making your next purchase through one of the links above.