User Review:
Therm-a-Rest NeoAir
Rating:


Source: bought it new
Price Paid: $86

Summary
Light, comfortable, packs up small.
Pros
Comfortable
Lightweight
Compact
Reliable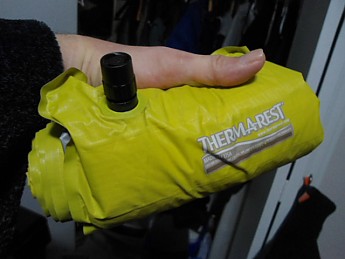 Basically, there are three different types of backpacking mattresses, the familiar blue or yellow closed-cell foamies, the 'self-inflatable' ones pioneered by Therm-a-Rest such as the Trail-Lite, and the traditional air mattresses like those you'd use on a lake.
The foamies have been a standard for a long time, combining light weight with decent insulation. They're very cheap, but they are bulky and large enough that they usually have to be strapped to the outside of a pack. For true 3-season use, many backpackers will carry a couple of them for the extra insulation.
The self-inflatable ones include baffles to restrict air flow and a foam structure inside both for insulation and to help them inflate. That offers better warmth, but they are more expensive. They are, however, just as bulky as the foamies, and while they offer better padding, they rarely self-inflate after the first few times. They are also relatively heavy.
It's dead air space that provides the best insulation, and the problem with traditional air mattresses is that there is nothing between the top and bottom surface to stop the heat from getting lost through the ground. No dead air = no insulation. Warm air from your body flows freely away, and dissipates through the sides and bottom. Made of rubber backing a cloth surface, standard air mattresses are also quite heavy. Good for car camping if you bring along a quilt to take care of the heat loss, but not for backpacking.
A couple of years ago, I was doing my annual Backpacking Prep group at Cooking Lake. For a mattress, I was using my old Therm-a-Rest Prolite, comfortable enough but bulky and heavy. One of the people who came along had the new NeoAir, and when I saw it in use, I was amazed!
Very small and light, and it seemed pretty comfortable (or so I heard from the guy who was using it). The design is a cross between an air mattress and the standard Therm-a-Rest, with a thin and very light air-filled mattress (2.5" thick, 12.5 oz.) with connecting baffles and an interior reflective layer to bounce the heat back. The advantages of an air mattress with all the problems solved. Lots of extra air space to keep you off the ground, and if you don't overfill it, you'll find it quite comfortable.
I checked the online reviews, though, and while everybody said it was a great mattress, there seemed to be a few concerns about durability. A few people reported baffles popping or leaks, and I started having second thoughts. I put off buying one, and decided I'd wait until they got the kinks out.
Then at a local Club Night, I saw them on sale for under $100 – with the 10% discount, I wound up paying just $86! I was aware that they were dumping the first model because of the quality concerns but at that price, I thought "What the heck!".
Best decision of my gearhead life.
I've used it now for a couple of years, and I've had no problems with it. No popped baffles, no leaks, and I've found it to be the most comfortable mattress I've ever had. I'm a side sleeper, and while the 20" width might be tight for some, I don't have a problem with it. The R-value is 3.2 and that's plenty for 3-season use.
The trick is to not fill it too full. I can blow it up with between 30 and 35 breathes, and I usually wind up letting a bit of air out for the most comfort. As others have pointed out, the NeoAir packs up to about the size of a Nalgene bottle, which means I can stow it inside my pack instead of hanging it off the back of the pack to get wet.
I've used it on backpacking trips in the mountains at temperatures down to 0°C, and for general-purpose summer use when camping. No problems and I've always been warm and comfortable.
But of course the model I have is no longer available. Therm-a-Rest wisely redesigned the original to address the quality concerns, and to make a few improvements. In some of the new designs the corners have been trimmed off to reduce the weight by up to 15%, and they've added models that have softer surfaces for more comfort and less noise.
Look for the NeoAir Trekker and All Season, and the Xlite and Xtherm, as well as heavier ones meant for use at a base camp. As you'll see from a quick look at their website, Therm-a-Rest is investing heavily in the new designs – expect to see fewer of the old style in the future.
Where to Buy
sponsored links
Help support Trailspace by making your next purchase through one of the links above.