User Review:
Therm-a-Rest Original Z-Lite
Rating:


Source: bought it new
Price Paid: $45

Summary
The Therm-a-Rest Z-lite pad is a closed-cell foam pad that offers an alternative to traditional flat pads. However there are some downsides which keep me from being able to recommend it. It might work OK for people with low body mass, especially if they are back sleepers. Cascade Designs customer support deserves a shout-out for being responsive and accommodating.
Pros
Lightweight
Eggshell style provides more cushion than flat foam
Responsive and satisfying customer support
Reasonable price
Cons
Not enough padding for side sleepers
Not durable, doesn't last very long before the eggshell shape gets crushed
I bought the Therm-a-Rest Z-Lite pad to replace an older Ridgerest style pad. My thinking was that the eggshell pattern would provide additional cushioning and a more comfortable sleep. While this seems to be true when the pad is brand new, unfortunately it doesn't seem to last. Unfortunately it seems to be a good idea (lightweight, additional cushioning) that just doesn't work out in actual practice.
I am on my second copy of this item. I used the first for a 30-day thru-hike of the John Muir trail last year.  Early in the trip, I noticed it starting to crush. The eggshell pattern seemed to be flattening out. As you might expect, as this happened, the pad got less and less comfortable. Eventually it felt almost like I didn't have a pad at all. After all, it's the eggshell shape that gives this pad its cushioning. The foam itself is very thin.
When I returned from the trip, I contacted Cascade Designs and explained what had happened. I didn't really expect a remedy, so I simply asked whether this was expected behavior. The representative requested photos which I supplied — and once they saw the issue they sent me a replacement pad (the first one was the original Z-lite;  the replacement was the Z Lite SOL).  Kudos to the company for providing responsive support and a satisfying remedy for my issue, even including an upgrade in the process.
I have used the new pad for just six nights and already it is starting to crush just like the original. Maybe it's just not good for people of my weight (I'm 6' and about 175#). Or maybe it doesn't work well for side sleepers since the shoulder and hips tend to place a lot of concentrated stress on the pad (maybe it would work well for a lightweight back sleeper with the weight more evenly distributed across the pad).
One note regarding the new SOL version. This model has a silver-colored aluminized surface which claims to "increase overall warmth by nearly 20%". While I haven't measured the actual temperature, I can vouch for the pad feeling warm when I hold my hand against it, so it does seem to have some merit. I have also slept on it for several nights with temperatures ranging from 29-35 and found it warm to sleep on.
By the way, the SOL pad is rated at 14 oz.  I weighed it at 14.3 oz on my scale — that's pretty close.  The previous version weighed in at 13.3 oz, so apparently the aluminized coating adds one ounce of weight.
Overall I'd say this pad might work well for light back sleepers. But (even before the crushing occurred) it's really not adequate for a side sleeper (one's shoulder gets numb from essentially pressing into the ground). Then when you factor in how quickly it crushes, I'd have to say I don't recommend it.
This image shows what the pad looks like with some eggshell shapes still intact, and others just starting to crush.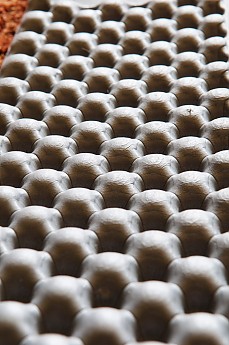 Here's what they look like when they're fairly crushed out. Granted, this was after 30 nights use. But the damage started early on. And shouldn't a pad last for (much) more than 30 nights?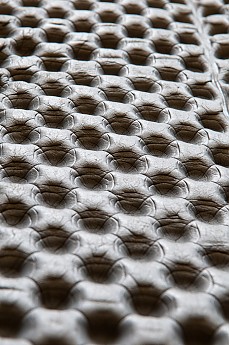 Here's what it looks like folded and strapped to a Deuter ACT Lite 65+10 pack.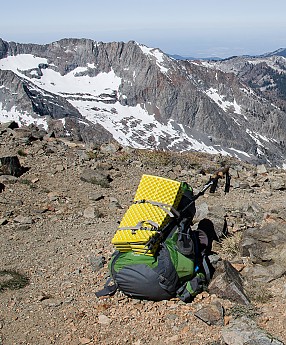 Where to Buy
sponsored links
Help support Trailspace by making your next purchase through one of the links above.