User Review:
Trangia Spirit Stove
Rating:


Price Paid: $14

I've made a few pop can stoves. They last a while but the Trangia will last many years.
It is solidly built, and light for back packing. The simmer ring is nice. I was able to boil 1.5 liters of water then put on the simmer ring for another 20 minutes of cooking. This was a big plus over my pop cans. Plus it is nice to put on the lid with fuel still in the stove, less mess and less fuel wasted.
4.5 stars because the simmer cover is stamped on. This will have to be fixed. As it will break in time.
Overall very nice for the traveler.
Update: November 17, 2011
I have now had this stove for many years. In my first review I mentioned that I thought in time the simmer ring would have to be fixed. I was wrong.
Last year I had bought a canister stove. I gave it all my attention. On my last trek I took my little Trangia. I had forgotten just how much I love this little thing!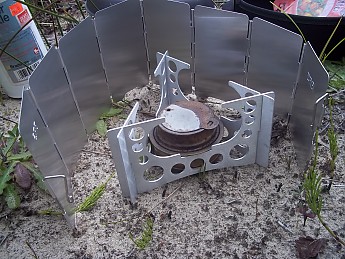 As you can see. It has been well used.
In conclusion; I well use it all spring, summer and fall. As there is nothing that can fail.
Where to Buy
sponsored links
Help support Trailspace by making your next purchase through one of the links above.