User Review:
Wenzel StarLite
Rating:


Source: bought it new
Price Paid: $29

Summary
A $29 tent that, with minor modifications, weighs 1 lb. 15 oz. packed.
Pros
With modifications, ultralight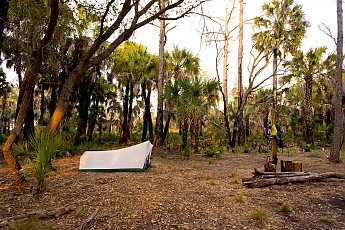 I actually bought this in the '90s for a canoe trip that I did not take because I became ill. Since then, it sat among my camping stuff. And sat. And sat. Until I decided last year to see whether I could cut its weight and use it as an alternative to my ultralight hammock setup.
Here are the modifications I made:
Threw away the heavy stakes and replaced them with ultralight stakes from MSR
Tossed the foot pole and replaced it with an old section from another tent
Heaved the front pole and used my two trekking poles, one on each side in an inverted V
Ditched the tie-out lines for ultralight line
Pitched the zippered carry sack for an ultralight stuff sack
Sprayed it with waterproofing
It goes up fast, but I find that the guylines -- which it requires since it is not freestanding -- need to be tightened later. When set up and guyed out, it is low to the ground and relatively stable. With the waterproofing added, it held up to a light rain with no problems. I have not yet tested it in heavy rain.
This is a single-wall tent, but leaving the door fully open (closing only the mesh door), I had no issues with condensation even in hot and humid Florida. In fact, it seemed to vent very well that way; I could not tell the difference between the outside and inside temperatures.
I have not used it in heavy rain or in cold weather. I have used it only twice, after it sat for years, so I cannot comment yet on durability.
Floor space is good for one person, though the walls slant severely and you must sleep in the middle. Headroom not good for sitting up or changing, and you need to crawl to enter or exit. I kept hitting my back on the trekking poles every time I exited, requiring me to reset them.
It packs up tiny, which brings me back to the main draw for this tent to me. It's small and weighs under 2 pounds.