Xero Shoes
Z-Trail Sandals
Reviews
Xero's Z-Trail is a minimalist sandal in a number…
Rating:


Source: received for testing via the Trailspace Review Corps (Sample provided by Xero Shoes for testing and review)

Summary
Xero's Z-Trail is a minimalist sandal in a number of ways. The sole and midsole together are less than a centimeter thick, with no thick heel or arch support. They secure your feet with a hook and loop heel strap and a continuous polyester strap that you pull to tighten.

They are unexpectedly good at protecting the soles of your feet for such a light and flexible sandal, and traction is very good to excellent. Lateral support is an issue, though, and you can definitely feel roots and sharp rocks under your feet. A great choice for someone looking for a well-made and conceived minimal sandal.
Pros
Feel almost weightless
Great feel for the ground
Nice wet and dry traction
Comfortable strapping
Harder sole sections give some protection
Well made for such a light shoe, should be quite durable
Cons
Lateral stability is good but not great
Sole protection is limited
People who want thick heels or arch support should look elsewhere
Initial Impressions and Fitting
The pair I received fit my feet well and weighed in at about 10 ounces—for the pair! For the sake of comparison, that is less than half as much as a pair of Chaco sandals and slightly less than a pair of Vibram Fivefingers I tested a number of years ago.
They are extremely flexible. The sole/midsole is made of two different materials—the medium brown part is stiffer but less grippy than the black sole pieces. Between the sole, midsole, and softer topsole, they are less than a centimeter thick.
I took this photo to compare the thickness of the Xero Z-Trail sole to a pair of Chacos. 
Trailside view of the sole.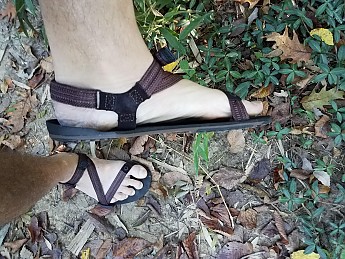 The straps are smooth polyester—low friction. The straps on mine are brown and black with a pattern, reasonably good-looking. When you initially put them on, adjust the heel strap (it secures with hook/loop) and forget about it. Then, slide the front strap through the rubber piece on the outside of your forefoot to get the fit right.
To take them on and off, you loosen and tighten the strap as it runs through a friction clip on the outside of your ankle. Chaco wearers will recognize the positioning of the straps—though the hardwear is a little different, the basic layout looks like a Chaco Z/1. When you tighten the shoe, there is a small rubber ring you can use to make sure the loose end doesn't flap around.
How They Fit and Feel
The continuous front strap is pretty easy to adjust on the fly, and you can strap your forefoot down so it feels tight and secure if you are on uneven terrain. Likewise, you can pull the strap tight and lock your heel down. The heel part feels very secure, both forward and back and side to side. The forefoot slides around a little, even if you pull them very tight.
If you are hiking on steeper or more uneven trails, you will feel your feet moving laterally at times. The straps, despite a lot of walking and hiking, never blistered my feet. (In fairness, I have been wearing two different sandals made another brand with very similar straps for years—my feet are very accustomed to this strap configuration). There is no break-in time on these shoes.
When you walk and hike in these shoes, you can clearly tell that you do not have arch support or a thickly padded or shielded sole. Your feet get a very good sense for the ground in these. If you are interested in minimal sandals but have not worn them much or at all, you may need to 'break in' your legs and feet.
I suggest you get used to these gradually. Wear them for an hour or two, a day or two a week, and increase how often and how long you wear them. How long should that process last? That depends on your individual comfort level, I think. It took me a number of weeks to get used to minimal shoes at first because I have extremely flat feet. Because I have been wearing Fivefingers shoes for a number of years, I was quickly wearing Xero's Z-Trail for hours a day on warmer weekends. 
Traction
The Z-Trail has very good traction. They are not the best, but they are better than most. The black sections of the sole are made from a grippy rubber that does not slip much, if at all, on rocks. I wore these on a series of riverside hikes and got them in the water. They did very well on slimy rocks and in mud, except if you step hard on the less-grippy brown sections, which have a tendency to slip a little on wet rocks.
Having a thin sole enhances traction somewhat, because feeling like you are barefoot helps with traction. The only real limit I encountered was on gravelly downhills and wet leaves, where the relatively shallow sole lugs did not work as well as, say, the more aggressive soles on day hiking shoes or hiking boots. 
Foot Protection
The 'midsole,' the light brown part, is a little bit more stiff and provides a measure of buffer between your feet and the sometimes hard or sharp roots or rocks on trails. On the harder and more rugged trails, I felt those obstacles at times. If I plan to be on consistently rough or abrasive trails, I don't reach for these or any other minimal shoe.
Durability
This is a little hard to assess because minimal shoes aren't my favorite choice for walking on hard pavement. I wore the Z-Trails on dirt and rock trails over the course of a few months, 40-50 miles, and they have relatively minimal wear. I had a slight tendency to skim the toe against rocks, which scraped the softer topsole a little.
The Testing Grounds
I wore these sandals on a series of local hikes over about sixty days—the Billy Goat trails by the Potomac River, Sugarloaf Mountain, the Cabin John trail near my house, and the C&O Canal tow path. I also regularly wore them while walking the dog, hanging around on weekends, walking the sidelines of high school sporting events, and doing yard work.
I would not normally wear a minimal shoe on the most aggressive section of the Billy Goat trail but tried these out to test their limits on a steeper and more rocky trail. I was in and out of the Potomac River and a stream alongside another local trail. I walked about forty to fifty miles in them over the course of the testing. 
I did not hike these with any heavy backpacks but regularly carried twenty pounds or more. At those light weights, I don't feel the need for much support, and hiking with twenty to twenty five pounds on my back in these sandals felt great.
My Impressions
These strike a decent balance—a minimal sandal with just enough protection to appeal to a wider audience.
The sandals are made to last and should be very durable for such a light shoe.
Good job on the tread pattern and materials.
Minimal shoes have limits. In addition to employing a sole that is not very suitable for rough conditions, these have just fair to good lateral forefoot support.
I like wearing them. During the Thanksgiving week on my parents' chilly wood floors in New England, I wore these as my slippers and on shorter walks with wool Injinji toe socks. Sandals this light might also end up being a serious contender for post-hike summer evenings.
I tried these on a couple of hikes, for use as a camp…
Rating:

Summary
I tried these on a couple of hikes, for use as a camp shoe, for swimming and creek crossing, etc. But I soon gave up on them, not just due to the poor sole protection and the lateral movement that were cited, but also due to dirt and gravel quickly getting into the sandals (drier conditions) and water (wetter conditions).

Pros
Super lightweight
Decent design and construction for the weight
Cons
Not sturdy enough for most people
Does not keep out debris very well
The lightweight simply wasn't worth it to me.
I recommend something sturdier unless you have ideal trail conditions and feet that can handle the stress.
Added:
Try "Gold Pigeon" sandals, model 5931. I'm very happy with them after a year's usage. Much sturdier and not much heavier (14 oz for my EU 44 pair). Name brand U.S. sandals can be excellent but often weigh twice as much (I'm a PCT hiker).
Where to Buy
sponsored links
Help support this site by making your next gear purchase through one of the links above. Click a link, buy what you need, and the seller will contribute a portion of the purchase price to support Trailspace's independent gear reviews.
Xero Shoes Z-Trail Sandals
MSRP:
$79.99

The Xero Shoes Z-Trail Sandals is not available from the stores we monitor.
Recently on Trailspace