User Review:
Yaktrax Pro
Rating:


Price Paid: $19.99

Review from http://HuskyHiker.com
I have had my Yaktrax Pros for a couple of years now and love them… I have used them on everything from deep powder to crossing a frozen lake.  They really grip!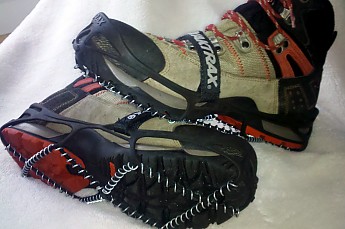 First Thoughts
When you open the package, they seem flimsy, it is a rubber web with some thin metal coils around parts of the rubber. They are kind of flimsy. The coils take some abuse. I have used them on ice-patched pavement and haven't bent or flattened the coils. I can see how the rubber could break, although this has not happened to me.
Putting them on
They do have a left, a right pair, and a toe and heal side so some thought is required in putting them on.  They are pretty easy to get on, just slip your toe in the toe side and pull the heal of the yak over your boot or shoe heals.  Some adjustments of the sides are needed, and then tighten the Velcro strap over the top of your foot.  The strap is what make the pros differ from the regular Yaktrax, and the strap is a big help original Yaktrax are known to slip off shoes easily so don't skimp, go with the pros.  If you are going to be wearing them on big winter boots, I would recommend getting one size bigger than your shoe size.
Traction
I have hiked in them, used them around town, and out when shoveling the driveway, and they really help keep you stable… I always wear them to shovel!  On some hikes, if the trail is well broken in I opt for the Yaktrax rather than snow shoes.  In snow, you will still slip and slide a little but on ice these things keep you put!  Best of all at 6-8 oz (depending on size) you barley notice you are wearing them.  One word of caution though DO NOT wear them in side especially on tile or linoleum floors, the metal coils provide no traction, and you will fall… trust me!
Conclusion
They might not be a burly as other traction devices out there, but they do the job.  They are light and provide great traction, especially on ice.  They stay on the foot, and I have been using mine for two years with no breakage (I can see how the thin rubber could break and this worries me when I am 3-4 miles into a hike).  If you are looking for traction around town and for the occasional hike I would not hesitate to buy a pair of Yaktrax Pros…
Where to Buy
sponsored links
Help support Trailspace by making your next purchase through one of the links above.