Trailspace News, August 2006
2007 New Product Preview
Last week outdoor gear manufacturers unveiled their latest innovations at the Outdoor Retailer trade show in Salt Lake City. Trailspace was there for a preview of next year's gear:
Trailspace Joins 1% For The Planet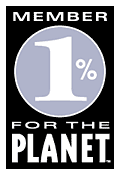 Here at Trailspace we're dedicated to helping hikers, backpackers, climbers, and other backcountry enthusiasts get outside to enjoy the natural world, just like we do. That mission comes with a responsibility to be good stewards of the very environment we encourage our readers to explore. That's why Trailspace has joined 1% For The Planet, an alliance of companies that each donate at least one percent of their annual sales to environmental organizations worldwide. Full Story
New Site Features
Content, content, content. We've recently launched new sections of Trailspace.com: outdoor news for coverage of new product releases, events, and outdoor trends; and the Trailspace Blog for site news and opinion. We've also slightly redesigned the home page to accommodate all those new headlines. Read all about it.
Recent Reviews
Do you have a favorite -- or least favorite -- piece of gear? Write a review.
Forum Highlights
A serious buzz: bees in the backcountry.
How do you find the right balance between climbing and career?
Items in our packs that have proven useful in unexpected ways.
Tent or bivy? What's the best setup for sleeping under the stars without letting in crawling critters?
Find more topics in our expanded and improved forum index.