Bill Straka reports on the fortieth anniversary climb of Mt. Vinson, the highest peak in Antarctica. Read Bill's trip report and view photos from the coldest continent.
Review: Kahtoola FLIGHTsystem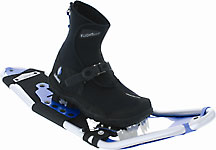 The Kahtoola FLIGHTsystem, a pair of integrated overboots and snowshoe decks, offers winter trail runners and hikers a warm, dry, and binding-free alternative to traditional snowshoes.
Osprey Launches Recycled Daypacks
A few years back Osprey set the goal of building a fully-functional pack from as many recycled materials as possible. The result is the ReSource Series, a collection of four daypacks and two courier bags built almost entirely from recycled materials. Read story »
More Recent Headlines
More outdoor gear news | Trailspace blog
advertisement

Recent User Reviews
Do you have a favorite -- or least favorite -- piece of gear? Write a review.
Forum Highlights
Solutions for backcountry cooking
Getting paid to become an explorer
Finding the right backpack for the Appalachian Trail
Join the conversation: all this and more in the Trailspace forums