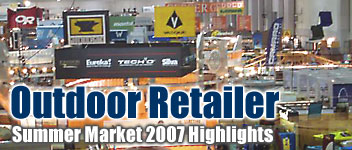 Last week the outdoor industry gathered for its semi-annual new gear frenzy in Salt Lake City, and Trailspace was there for a sneak peak at the latest and greatest gear and gizmos. Read all about it »
Trailspace Hats Now Available
At long last, Trailspace hats are available for purchase! If you enjoy being a member of the Trailspace community, show your support by hitting the trail with a Trailspace lid on your head.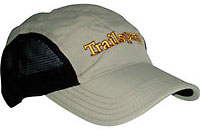 We currently have three models available:
Trail Runner Cap
Rain Cap
Tactel Cap
That's the Trail Runner Cap (our favorite) shown at left.
All three models can be purchased from our friends at Gear for Adventure.
Climbing: Gear and Access
We've made a couple changes recently to make Trailspace more useful for the climbers among us:
First, we've added a whole slew of climbing gear categories to the gear reviews, including protection, 'biners and draws, ice gear, big wall gear, and more. Climbers, review away...
More significantly, Trailspace has partnered with the Access Fund to help keep climbing areas open and conserve the climbing environment through public policy, stewardship and conservation, grassroots activism, climber education, and land acquisition. If you're a climber the Access Fund has your interests at heart. Read more about our partnership »
advertisement

Do you have a favorite -- or least favorite -- piece of gear? Write a review.
Boot Options for Wide Feet
Backpack Restoration
Selecting a Camping Stove
Good Backcountry/Wilderness Hikes in NM
Sleeping Bag ACTUAL Fit Sizes
Breathable Hard Shell and Soft Shell Rain Jackets
Cleaning Poison Ivy Urushiol off Gear
Join the conversation: all this and much more in the Trailspace forums