Blazing a Good Trail: The AT in Maine (Part Two)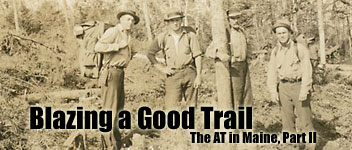 On June 21, 1934, four members of the Bates Outing Club set off into the Maine woods laden with 45-pound packs and a mission from ATC chairman Myron Avery: locate, flag, and map a viable route for the Appalachian Trail from Frye Bridge in Andover to the base of Saddleback Mountain near Rangeley and complete the final scouting of the footpath from Maine to Georgia.
We have decided to recreate their trip. Looking at the maps and route descriptions it seems as simple as connecting one old trail, tote road, or path to the next, with a little bushwacking thrown in here and there for fun. But sitting at home you just don't know »
Forum Changes
Last month we reorganized the Trailspace forums a bit. We've added four new forums and moved a number of messages out of the existing forums and into the new ones. The new forums are:
We've also enhanced the forums with more information about the poster of each message, including join date, number of posts, and enhanced "seniority" status information.
You can access all the new forums from the forum index.
Recent Headlines
Climbers Can Apply Now for 2008 Mugs Stump Award
American Climbing Pioneer Bob Bates Passes Away
Sterling Rope and Rock/Creek Launch Rope Recycling Program
Outside Announces 2008 Gear of the Year Awards
Osprey Extends Pack Recycling Program with Mountain Fund
Sierra Club Announces 2007 National Awards
advertisement

Do you have a favorite -- or least favorite -- piece of gear? Write a review.
Pants and rain shell vs. just soft shell
Photography (DSLR) in the backcountry
Yosemite trails for autumn colors
Shenandoah -- our first backcountry overnighter
Join the conversation: all this and much more in the Trailspace forums