In This Issue
Humans to Become Majority Urban Species
Hike, Get Dirty, Give Back: Volunteer Vacations
Happy 7th Birthday, Trailspace
Parking Garage: Beyond the Limit
Scared Indoors: Does the Media Affect Outdoor Interest?
Summit for Someone and Climb for Kids in 2008

Keep up with Trailspace: check out the Trailspace blog and subscribe to our blog or news RSS feeds for real-time updates.
Let the world know where you go for independent gear reviews and advice. Hit the trail with one of these great Trailspace hats on your head:
All three hats are on sale this month at Gear for Adventure.
The decreasing numbers of people getting outdoors is a topic of interest both here at Trailspace and farther afield. Less people in the backcountry can sound like a good thing for those of us seeking its solitude. But, the trend is disconcerting »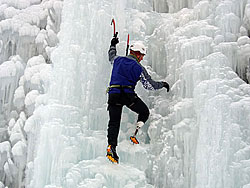 It's not what you can no longer do. It's what you can do now.
I was pondering this sentiment recently, seven months pregnant, unable to ice climb with my husband, downhill ski with my son, or bag winter Presidential peaks. I admit, I was feeling a touch sorry for myself. Then I saw the press release for "Gimps On Ice" and got over myself »
Recent Headlines
Paradox Sports Develops Prosthetic Climbing Foot
Sierra Designs Earns Sprout Award for Green Effect Program
Primus Grows 100% Fuel Efficiency Program
Do you have a favorite -- or least favorite -- piece of gear? Write a review.
Tricks for fire on top of deep snow
Minimalist or everything but the kitchen sink?
Primal Quest - climbing dream team on staff
Choosing off-trail boots: follow logic or hype?
How valuable are trekking poles?
Join the conversation: all this and much more in the Trailspace forums