May 2010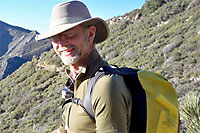 "Ask us. We've been there." Not only is that the slogan for Midwest Mountaineering, it epitomizes the life of the outdoor store's founder and president, Rod Johnson »
Visit any major trail and you'll likely see hikers using trekking poles, matching poles specifically designed for hiking. If you haven't yet tried trekking poles, consider the advantages to decide whether they're a worthwhile addition to your gear closet »
Members now can review and research canoes, kayaks, packrafts, paddles, outfitting gear, dry bags and storage, and other paddling gear. And since it's not a community without plenty of discussion, we've added a brand-new paddling forum.
Celebrate National Trails Day on June 5
More fee-free days on public lands
Safety Recall: Klean Kanteen Sport Cap 2.0
Do you have a favorite -- or least favorite -- piece of gear? Write a review.