July 2010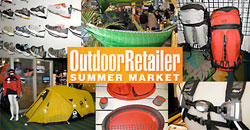 Trailspace will be in Salt Lake City August 2-6 to cover Outdoor Retailer Summer Market, the world's largest outdoor gear industry gathering, with more than 1,000 outdoor brands. Subscribe to our blog and news RSS feeds for real-time updates of our daily show coverage, follow our tweets from the show floor on Twitter, or read it all on the website.
Invasive Species: Facing the backcountry threat, limiting the spread
Gear Maker Profile: Doug Clark of GoLite Footwear
Trekking Poles: Fit, Maintenance, and Tips (Part 4)
NASA Develops New Emergency Response System
Do you have a favorite -- or least favorite -- piece of gear? Write a review.