July 2011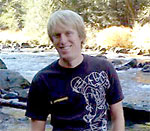 Brent Zwiers — one of the design minds behind Feathered Friends' handmade down sleeping bags and clothing — shares some of his gear designer experiences, skills, and secrets »
Trailspace is off to Salt Lake City August 3-7 to explore the gear celebration that is Outdoor Retailer Summer Market. Stay tuned for updates on the Trailspace blog and Twitter.
Canoes and Paddles: know your parts, shapes, and materials.
Lightweight Backpacking: lighten your shelter, bag, pack, and stove.
OutDoor Gold Awards for Gear Design Innovation
Tread Lightly with Access Fund to Protect Climbing Access
Black Diamond Magnetron Carabiners Auto-Lock with Magnets
Minimal Toe Shoes Banned by Army
Rab-Parent Company Equip Acquires Lowe Alpine
FDA Issues New Rules for Sunscreen Labels
Write a review of your favorite -- or least favorite -- piece of gear.