Aashima Tyagi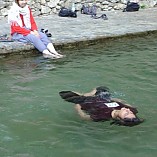 Full Name: private
28-year-old woman
Delhi, New Delhi, India
Occupation: Student
Email: private

Affiliations: I am a PRO at Ravers Expedition. If anyone have any queries regarding camping,trekking,rafting,rock climbing etc in India especially in Uttrakhand then please feel free to ask.
Gear Reviews
Aashima Tyagi hasn't written any gear reviews.
About
Basically I like being close to nature and would love to try my hand on every adventure activities. Till now i have done trekking, rafting and swimming in rivers is my passion. I have a wish list which has led me to join this community. I hope that i fulfill my adventure dreams :D.
Activities
Hiking
Backpacking
Rafting

Swimming
Trekking

Vitals
| | |
| --- | --- |
| Height | 5'3 |
| Weight | 65 kgs |
| Boot/Shoe Size | 5 |
| Jacket/Shirt Size | Large |
| Pant Size | Medium |