Alicia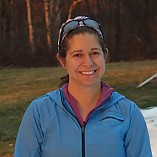 Full Name: private
42-year-old woman
Maine
Affiliations: In my role as editor, co-owner, and co-founder of Trailspace, I have professional relationships with numerous outdoor industry professionals, primarily outdoor gear manufacturers and their public relations representatives. * Trailspace is a founding member of the Maine Outdoor Brands trade group, and I am a volunteer member of its Advisory Board since 2017.
| | |
| --- | --- |
| Congratulations, Top Reviewers of 2017 | March 21, 2018 |
| Congratulations, Robert, our Therm-a-Rest Contest Winner | December 18, 2017 |
| Meet Ross: Bike Tech, Backpacker, Paddler, Reviewer of the Month | December 15, 2017 |
| Final Days: Review Your Gear to Win Therm-a-Rest Prize | December 12, 2017 |
| Here's How to Win $470 Worth of Therm-a-Rest Gear | December 5, 2017 |
About
I'm the co-founder and co-owner of Trailspace, along with my partner Dave, as well as its Editor. Dave and I founded Trailspace in 2001 because we wanted a place where fellow backcountry enthusiasts could share reviews of their own outdoor gear, apparel, and footwear.
Thanks to our amazing community members, Trailspace now has more than 34,000 reviews and counting. Our members' first-hand reviews have helped millions of people find and select gear for their own outdoor adventures.
When I'm not inside working on Trailspace, I like to go outside to run, ski, hike, and bike on trails and in the woods and mountains of Maine, northern New England, and beyond. I like trees, summits, rocks, and snow.
I've hiked all of the 4,000 Footers in New England. I occasionally whittle away at the New England 100 Highest list, and I've also hit a few high points, including Rainier, along the way. I've been a runner for nearly three decades and have run trail races from 3K to 100 miles, and many in between.
I would rather be outside and moving forward than sitting and typing on this computer.
Activities
Hiking
Backpacking
Snowshoeing
Trail running
Backcountry skiing

Mountaineering
Canoeing
Kayaking
Mountain biking

Vitals
| | |
| --- | --- |
| Height | 5'4" |
| Weight | 130 lbs |
| Torso Length | 17" |
| Boot/Shoe Size | women's 7.5 US |
| Jacket/Shirt Size | women's small-medium |
| Pant Size | women's small-medium |