Boat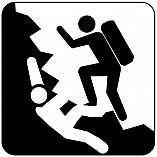 Full Name: private
38-year-old backpacker
Fort Worth, TX
About
We have climbing/adventure group in North Texas called Climbing Association of North Texas. We're just starting and looking for more like-minded individuals to join.
This is a group for those of us locked in the worst climbing area this side of the desert. They told us you can't climb in Texas, but C.A.N.T. can. Lame joke, I know. I couldn't resist. :)
So, I want people to be excited about climbing and want to climb in a relaxed, social setting. I'm not the best climber, but I'd like to get a couple people that ARE good and some that are interested in being better and becoming a climbing group. This Association is for those that want to form a loose society that can pool resources and knowledge, thereby opening up a lot more opportunities for climbing.
This group is also for all of you that like to hike, backpack, and what-not. Share stories here, discuss different routes and good places to get out to.
Activities
Hiking
Backpacking
Snowshoeing
Mountaineering
Ice climbing
Rock climbing

Canyoneering
Canoeing
Mountain biking
Fishing
Urban Climbing
Caving

Vitals
| | |
| --- | --- |
| Height | 6' 0" |
| Weight | 175lbs |
| Torso Length | I'm not sure, longish? |
| Boot/Shoe Size | 12" |
| Jacket/Shirt Size | Medium |
| Pant Size | 33x32 |