CY6TacticalSolutions.com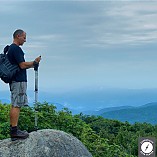 91 reviewer rep
0 forum posts
joined Nov 3, 2013

Full Name: CY6TacticalSolutions.com
man
United States
Email: private

Affiliations: Work in outdoor retail market, gear tester and often found playing outdoors.
About
Varied outdoor interests. Passionate about hiking/backpacking, paddling canoes and kayaks (flat water fishing and tripping/fresh or salt), bicycling (road, mtb, CX, bikepacking).
Favorite haunts: For spectacular long views and epic hikes -Colorado. For fun, Smokies, Shenandoah, and everywhere in WV. For quiet solitude behind a paddle -Algonquin Provincial Park, Canada. Enjoy cycling anywhere I'm not freezing. 
I do these in equal parts throughout the year.
Activities
Hiking
Backpacking
Canoeing
Kayaking

Mountain biking
Fishing
Bicycling

Vitals
| | |
| --- | --- |
| Height | 6'0" |
| Weight | 180 |
| Boot/Shoe Size | 9.5 |
| Jacket/Shirt Size | L |
| Pant Size | 32x32 |