dogtorbill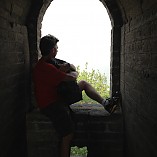 Full Name: private
backpacker

Occupation: Veterinarian
Email: private

Gear Reviews
dogtorbill hasn't written any gear reviews.
About
Although I once was very a outdoors/hunting/camping type person, I have no recent experience, so I've come to this forum for lots of advice.  I will be hiking the Camino de Santiago in April - May 2012, an 800km mainly trail hike with lots of rain, and some hot asphalt.  I will trek 25-35km per day with a 25# ruksack, staying at hostels, etc on the way, so no tent, although a possible few nights under the stars if weather permits.  Looking for lots of advice, esp if you are familiar with the Camino.  Boots (mid, light, waterproof, very durable is my starting guess) - I need quick suggestions regarding Brand & model, etc, also socks (2 layers?), ruksack, solar panel, head lamp, energy snacks, footcare, etc. BTW, without the shoes and socks in front of me, I need a company accepting returns, as well as advise about best estimate of sizing if using 2 layers of socks.  I'm thinking of possibly two shoes - one mid boot and one lighter shoe, but both durable but light and definitely very waterproof and cool for the likely heat on May afternoons on the asphalt.
Anyway, - I'd like to buy gear ASAP, even possibly during Black Friday Sales, for best value as well as break-in times, so quick advise would be very appreciated.
Activities
Vitals
| | |
| --- | --- |
| Height | 5' 9" |
| Weight | 160 |
| Boot/Shoe Size | 9.5 |
| Jacket/Shirt Size | med/lrg |
| Pant Size | 32 |