Dreamer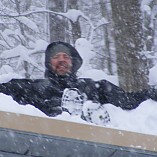 Full Name: private
56-year-old male backpacker
Western, VA
Email: private

Gear Reviews
Dreamer hasn't written any gear reviews.
About
I've been an avid outdoors-man from the very start,as a young child.
Backpacking,Mtnbiking,kayaking,fishing have always been a passion of mine and growing up in VA,WV offered endless opportunities.
I've always been a humble laid-back kind of guy who's always smiling.
Most of my activities are done solo.
Activities
Backpacking
Kayaking

Mountain biking
Fishing

Vitals