eric1221cire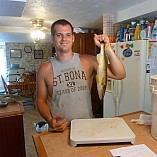 Full Name: private
30-year-old male hiker
Virginia
Occupation: Math Teacher
Email: private

Gear Reviews
eric1221cire hasn't written any gear reviews.
About
Hey everyone.  I moved to Virginia a couple of years ago (from New York State).  I've always enjoyed hiking and car camping but now transitioning into lightweight backpacking.  I live an hour from the A.T. and would like to do a few section hikes this year.  I am a high school math teacher so i'll be able to put in some serious miles this summer.  Throughout this school year, I started "collecting" all the gear I would need for all the conditions in Virginia, and been going on day and weekend trips.  My girlfriend just taught me to sew, so that I can upgrade some old packs I have and make some custom sized stuff sacks.  I also enjoy fishing and anything else outdoors.
Wheres the next adventure?
Activities
Hiking
Backpacking
Trail running

Geocacheing
Fishing

Vitals
| | |
| --- | --- |
| Height | 6'2" |
| Weight | 200 |
| Torso Length | 21" |
| Boot/Shoe Size | 11.5 |
| Jacket/Shirt Size | Large |
| Pant Size | 34/32 |