giftogab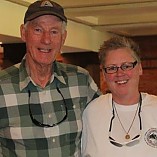 486 reviewer rep
1,373 forum posts
joined Jul 11, 2011


Full Name: private
53-year-old female hiker
Las Vegas, NV
Affiliations: My only affiliation with anything outdoors is: They take my money, I get a product. The end.
About
I practice law in Las Vegas and hike in the Red Rock, Valley of Fire and Mt. Charleston areas. I went to Everest Base Camp in 2012 and it was a life changing experience. The biggest physical challenge of my life.
September 2014 is my second BIG ADVENTURE as I will go to Machu Picchu, Peru and trek in!
I also kayak at Lake Mead and on the flat water of the Colorado between Boulder (Hoover) Dam and Lake Mojave.
Feels great to get back to who I used to be!
If you are reading this, thanks in advance for all of your help. Many of you have assisted me already and that makes this site worth coming back to.
Activities
Hiking
Rock climbing
Kayaking
Mountain biking
CrossFit

Bicycling
Snow Shoeing
Trekking
SAR
Cow Pie Tossing

Vitals
| | |
| --- | --- |
| Height | 5'8" |
| Weight | Girls don't tell |
| Torso Length | uh huh..... |
| Boot/Shoe Size | 9.5 |
| Jacket/Shirt Size | Really? |
| Pant Size | Bigger than I like |