greggj82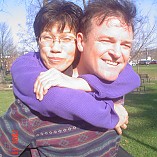 Full Name: private
63-year-old man
Crofton, MD
Occupation: teacher
Email: private

Gear Reviews
greggj82 hasn't written any gear reviews.
About
Grand Canyon hiking, Appalachian Trail, Bike and Canoe Trips in the Maryland area,
I teach Horticulture to high school age kids who have behavior and learning problems. I take them on every outdoor field trip possible! Chesapeake Bay foundation has some good stuff. Trying to get involved with outward bound in Baltimore where my school is.
I am planning to start an adventure group in the Crofton area.