hikerjab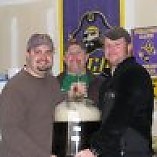 Full Name: private
35-year-old male backpacker
Cornelius, NC
Occupation: Outdoor Recreation Specialist
Email: private

Gear Reviews
hikerjab hasn't written any gear reviews.
About
My name is Joshua Banks, I have been going camping and hiking since I was about 6 years old. I have a degree in Parks and Recreation Management with a concentration in Outdoor Leadership and Instruction. My favorite hobbies are backpacking, whitewater rafting, kayaking, camping, hiking, and brewing beer. I work for Latta Plantation Nature Preserve as a Outdoor Recreation Specialist (outdoor guide).
My favorite places to go are Great Smokey Mountains National Park and
Panthertown Valley.
Activities
Hiking
Backpacking
Geocacheing

Canoeing
Kayaking
Camping

Vitals
| | |
| --- | --- |
| Height | 5'10 |
| Weight | 185 |
| Boot/Shoe Size | 10.5 |
| Jacket/Shirt Size | medium |
| Pant Size | 34/30 |