Mazama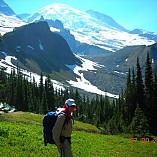 Full Name: private
male mountaineer
Washington
Occupation: Chemist
Email: private

Gear Reviews
Mazama hasn't written any gear reviews.
About
I have and continue to enjoy backpacking in the Wind River Range, High Sierra, and Cascades. Most of the time I'm scrambling or climbing but in winter I teach Nordic skiing. I have done all of these activities for a long time so often teach classes with my local climbing club.
Gear is a means to enjoy myself safely and comfortably. I have lots of old gear that I enjoy but.... am always interested in hearing about the marketing hype around the latest greatest.
Activities
Backpacking
Snowshoeing
Backcountry skiing

Mountaineering
Ice climbing
Rock climbing