OhioHiker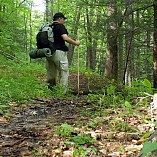 Full Name: private
47-year-old male backpacker
Ohio
Email: private

Gear Reviews
OhioHiker hasn't written any gear reviews.
About
I enjoy venturing into remote wilderness areas in all seasons and weather with minimal and lightweight gear. Bad weather is more fun than good weather. Learning and practicing wilderness skills, enjoying nature, and landscape photography are my typical goals on a trip.
I generally backpack in Ohio and West Virginia, but I'll go anywhere with mountains when time allows.
Activities
Hiking
Backpacking
Snowshoeing
Backcountry skiing

Kayaking
Bushcraft
Wilderness survival
Photography