OldGuyInTheWoods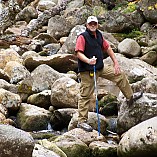 Full Name: private
male hiker
Ohio
Occupation: Customer Service/Tech Support
Email: private

Gear Reviews
OldGuyInTheWoods hasn't written any gear reviews.
About
Love the Outdoors (which of us do not), Hiking, Backpacking, Fly Tying, Fly Fishing, Bicycle Camping (Self-Contained), Sailing, Bass Fishing... to name a few items...
Recent health issues have slowed me a considerable amount, yet my heart is always in the outdoors, it is a happy place to go...
Activities
Hiking
Fishing
Camping

camping
camping

Vitals
| | |
| --- | --- |
| Height | 6' |
| Weight | 208 |
| Boot/Shoe Size | 13 |
| Jacket/Shirt Size | xl |