PaulaSmith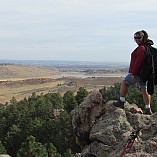 Full Name: private
45-year-old female hiker
Colorado
Occupation: Counselor
Email: private

Gear Reviews
PaulaSmith hasn't written any gear reviews.
About
I grew up in the city and I would never go back. I have found my peace in the mountains. There is nothing I enjoy more than being in nature. My goal this summer is to hike the Colorado Trail, see Zion National Park, and backpack into Sequoia National park. I work hard and I play hard. I would consider myself a adrenaline junkie. I don't allow fear to control me. 
One of my favorite poems. By Anita Finch
Return my ashes to the Mountains streams that come alive with each new spring. I simply want to go back to nature because it is my life. Something I love very much. I have lived to admire nature, this is my soul purpose in life. There can be no stair case to heaven, unless it be through earths loveliness.
Activities
Hiking
Backpacking
Snowshoeing

Mountain biking
Fishing