Rost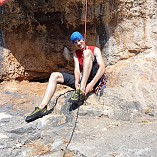 Full Name: private
rock climber
Slovenia
Occupation: Student
Email: private

About
I am from Slovenia. I climb for 2 years now ( i was competing long ago).
Beside climbing i am much into esoteric shit (as my friend describes), i do yoga and aikido.
I am vegatarian for two years and in transition to more vegan food. Beside i am much into raw food. 
My favourite athletes are Alex Honnold and Scott Jurek.
Activities
Backcountry skiing
Mountaineering
Ice climbing

Rock climbing
Kayaking

Vitals