The Conservation Alliance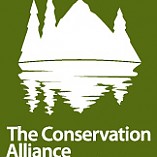 Full Name: private
29-year-old
Bend, OR
Gear Reviews
The Conservation Alliance hasn't written any gear reviews.
About
Our Mission
The Conservation Alliance's mission is to engage businesses to fund and partner with organizations to protect wild places for their habitat and recreation values.
Organizational History
The Conservation Alliance is a group of outdoor industry companies that disburses its collective annual membership dues to grassroots environmental organizations. We direct our funding to community-based campaigns to protect threatened wild habitat, preferably where outdoor enthusiasts recreate. The Alliance was founded in 1989 by industry leaders REI, Patagonia, The North Face, and Kelty, who shared the goal of increasing outdoor industry support for conservation efforts. We now have more than 185 member companies, and disbursed $1.3 million in 2012.
Since its inception in 1989, the Alliance has contributed more than $11.2 million to grassroots conservation groups throughout North America.  The results of our funding have been remarkable.  Alliance funding has helped save more than 29 million acres of wildlands; protect 2,700 miles of rivers; stop or remove 25 dams; designate five marine reserves; and purchase nine climbing areas.  We follow a rigorous grant proposal review process that ensures our grants go to organizations that can succeed given the necessary financial resources. Click here for a list of our grantees.
Our goal is to grow the Conservation Alliance such that our annual grant budget exceeds $2 million. Though the vast majority of those funds will always come from our member companies, we invite you to add your resources to our grant fund. We all believe in conservation, but don't always know which organizations are doing the most effective work. By supporting The Conservation Alliance, you will invest in an array of the most compelling conservation projects in North America. Your donation to the Alliance will help increase our grant fund, and support ever more effective conservation groups.