TigerFang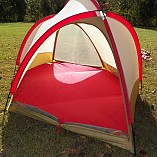 Full Name: private
male backpacker
Cincinnati, OH
Occupation: Writer
Email: private

Gear Reviews
TigerFang hasn't written any gear reviews.
About
Clark North American hammock (oversize tarp added), Moss Olympic tent (Camden, ME), Outdoor Research Bivy Sack, MSR Dragonfly stove, MSR Titanium mess kit, weather-appropriate sleeping bags of 0° and -20°.
I believe in leave-no-trace camping; also I appreciate and value the advice and recommendations of others on matters of camping and any other outdoor activities..
Activities
Hiking
Backpacking
Orienteering
Mountaineering

Canoeing
Fishing
Photography
Videography