Top 10 Ways to Celebrate National Trails Day on June 7
On Saturday, June 7, the American Hiking Society and hikers across the country will celebrate the 16th annual National Trails Day (NTD), a long-standing celebration of America's magnificent trail system and its supporters. This year's slogan is Join us on the Trail – and below are the top 10 ways Americans can get out and connect with nature through trails this June 7.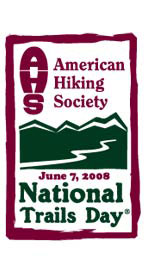 Plan a family outing to a favorite hiking trail or visit a new trail in the community.
Take a guided night hike and explore the many nighttime sights and sounds.
Participate in a trail maintenance project to assure area trails remain safe and enjoyable.
Take part in an interpretive hike to learn about local flora and fauna.
Learn or practice GPS skills with geocaching or letterboxing.
Volunteer at a community National Trails Day event and meet fellow trail supporters.
Attend a community trail festival to learn different outdoor skills and discover local outdoor opportunities.
Introduce a child to the joys of hiking and trails.
Saddle up a horse or grab a bike and ride new trails in your area.
Grab a paddle and discover local water trails.
Whether you hike, run, ride, paddle or volunteer, there are countless ways to join American Hiking Society on the trail this June 7. For a complete list of NTD events across the country and to find one in your area, visit AmericanHiking.org/NTD.aspx.
Founded in 1976, American Hiking Society is the only national nonprofit organization dedicated to promoting and protecting America's hiking trails, their surrounding natural areas and the hiking experience. To learn more about American Hiking Society and its mission and programs, visit AmericanHiking.org or call (301) 565-6704.