Leave No Trace Trainers Leave Behind Awareness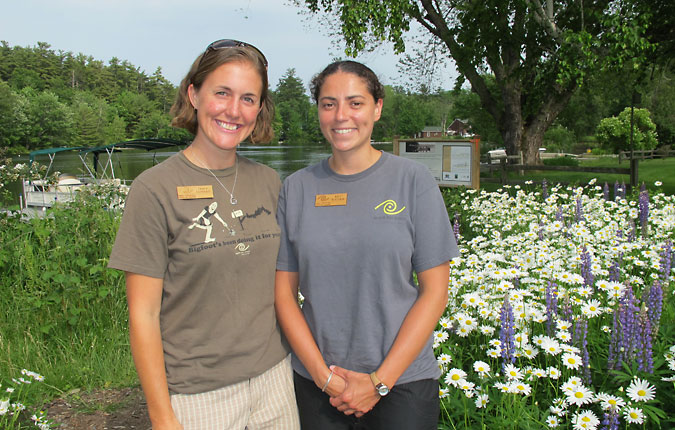 Camp out in national and state parks and forest service campgrounds more than 200 nights a year. Get outfitted with gear and apparel from the likes of Coleman, MSR, Therm-a-Rest, The North Face, and SmartWool. Drive around the country in a spiffed-out Subaru Outback. Educate and inspire thousands of hikers, paddlers, climbers, and other outdoor enthusiasts on responsible outdoor recreation.
This is a real job?
It is for Tracy Howard and partner Kate Bullock (above), one of three Subaru/Leave No Trace Traveling Trainer teams. (The two other 2012 teams are Tara McCarthy and Mark Ardagna and Quinn Laya and Frank Sturges.)
Spreading Outdoor Know-How
The Leave No Trace Center for Outdoor Ethics (LNT) teaches individuals of all ages how to enjoy the outdoors responsibly and make good decisions. A favorite LNT saying: "If you fail to plan, you plan to fail." It's the most widely accepted outdoor ethics program used on public lands.
"People want to be responsible, but they don't always have the know-how," said Howard. Each year, she and Bullock spend 10 to 11 months on the road spreading that outdoor knowledge to camp counselors, outdoor retailers, guides, youth organizations, and other outdoor groups, leaders, and general enthusiasts. Bullock and Howard hold workshops, lead trainer courses (both are LNT Master Educators), and attend outdoor events to raise awareness of Leave No Trace and its seven principles. (Disclosure: Trailspace is a corporate partner of LNT.)
"A lot of people we meet don't realize LNT is an organization," said Howard. Even she and Bullock weren't familiar with the full extent of the nonprofit's work before they saw and applied to the trainer position listed on Craigslist about five years ago. However, both women had master's degrees and extensive experience in education, lifelong passion for the outdoors and outdoor recreation, and friendly personalities. Now Bullock and Howard are in their fourth year as Traveling Trainers.
The work isn't all scenic hikes and leisurely campfire chats though. Annually, the three Traveling Trainer teams, all couples, visit 40 to 50 states, hold events on 350 to 400 days (out of 1,500 to 2,500 requests), train 50,000 individuals, and travel 135,000 miles in LNT-emblazoned Subaru Outbacks.
For example, this summer Howard and Bullock visited our local land trust in Belgrade Lakes, Maine, for an awareness workshop one afternoon, before heading to a western Maine middle school the next day, and then on to Acadia National Park. (Bullock and Howard are personally working on visiting all 58 of the country's national parks and so far have visited 46.)
Howard and Bullock take a proactive approach to public education, focusing on positive interactions over lectures and offering responsible alternatives when appropriate. They meet people where they are, at their experience and comfort level, and on the issues important to them. In the backcountry the issue may be human waste disposal, while in the frontcountry it's pet waste.
It's all part of a spectrum, say Howard and Bullock. Whether you're an outdoor first timer or a hardcore LNT advocate—someone "who would levitate out there if they could, drink their gray water, and pack out all waste," in Howard's words.
LNT is not anti-campfire or anti-dog, but pro-responsibility. "Just be responsible," said Howard. "Know the alternatives and any locally specific programs and principles."
And in a society that avoids talking to strangers, Bullock and Howard opt for open conversation and communication to raise awareness: "Here's the info, do what you will."
Just please don't call them the nature or fun police. "It breaks our hearts when people say, 'you take the fun out of the outdoors,'" said Bullock, herself a snowboarder, hiker, and biker, of battling that misconception.
Spending more than 200 nights a year in a tent means Howard and Bullock get to practice Leave No Trace daily. But they believe most people want to do the right thing too, if they just know what it is. And both readily admit to their own Leave No Trace mistakes.
"I quickly learned I was a wildflower collector, big time," said Howard of her initial LNT education.
"Innocently enough, I used to be a heart-shaped rock collector," said Bullock. "Now I'm a heart-shaped rock photographer."
Now Bullock and Howard leave behind a positive outdoor influence.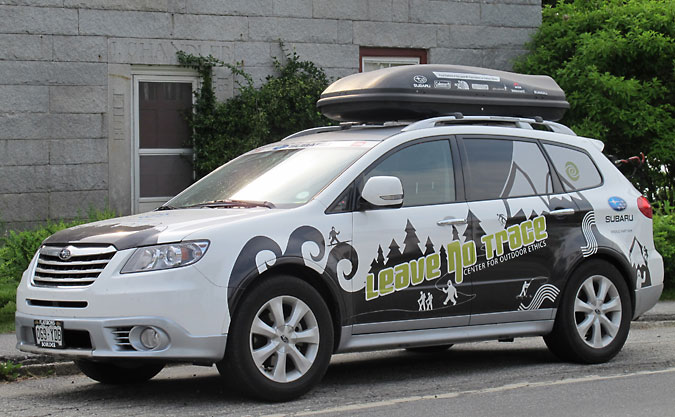 Leave No Trace Gear
When Traveling Trainers work with staff at outdoor stores, they often end up discussing the role of outdoor gear in Leave No Trace practices. "You are teachers with the ability to sway people," Howard and Bullock tell salespeople. "You can help people choose gear that's low impact, for example a freestanding tent." Or perhaps gaiters for staying on muddy New England trails and preventing erosion and trail spread.
Leave No Trace doesn't endorse specific gear or brands though, lest people think they need certain products to follow the principles. "When people have Leave No Trace education, they are better informed to choose outdoor products that will actually help them Leave No Trace," said Dave Winter, head of Strategic Partnerships and Outreach at LNT and a former Traveling Trainer himself.
Subaru/Leave No Trace Traveling Trainer teams are fully outfitted for their work by sponsors though, "down to the cutting board," said Howard.
"All of the gear is awesome and lasts for a long time," said Winter. "I was on the road in 2004 and 2005 and I still use a lot of the same gear."
So what do Leave No Trace Traveling Trainers pack in those Subaru Outbacks for a year on the road?
Here are some of the current offerings:
MSR Hubba Hubba tent
Coleman Cloudcroft 20 sleeping bag

Therm-a-Rest

Ventra Down Comforter, Fitted Sheet, and Down Pillow
Therm-a-Rest NeoAir All Season, BaseCamp, and/or Z Lite Sol sleeping pads (The NeoAirs "are awesome and packable," said Bullock and Howard.)
MSR Dromedary Bags and Reactor stove ("We live and die by our MSR Reactor," said Bullock and Howard.)
Coleman PerfectFlow InstaStart 2-Burner Stove, plus stainless steel 12-cup coffee percolator, and aluminum non-stick griddle
MSR Lightning Ascent snowshoes
Apparel from The North Face, like the Alpine Project Jacket, Redpoint Jacket, Khumbu Jacket, Nimble Zip Shirt,
WindWall 1 Vest, and/or Venture Pant
Apparel from SmartWool, like the Cortina Hoody, Midweight Funnel Zip, Lightweight Crew, TML Light Full Zip, TML Mid Full-Zip Hoody, PhD Running Ultra Light Mini, and/or Ridgeway Gloves
Sponsor Hi-Cone,

a supplier of plastic-based multi-packaging systems,

offers support for educational programing on how to dispose of waste properly.
About Leave No Trace
The Leave No Trace Center for Outdoor Ethics is a nonprofit organization that teaches people how to enjoy the outdoors responsibly. It's also one of the outdoor and environmental nonprofits that Trailspace supports. For more on Leave No Trace, its seven principles, and programs, visit lnt.org.