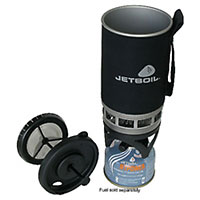 Jetboil is hungry for your tasty recipes. Share your best backcountry culinary creation in any of five categories—Breakfast, Lunch/Snack, Dinner, Dessert, and Beverage—and you could win a Jetboil Backcountry Gourmet Cooking Set.

Need a little gastronomic inspiration? Check out the recipes already featured on Jetboil's web site. Mmmmm...rice and avocado burritos. The Ramen noodles and Kraft EasyMac shouldn't be too hard to best though. Now fire up your stoves and start cooking.

A winner in each category will receive a Backcountry Gourmet kit, which includes a PCS, a Fluxring Frypan, a Pot Support and Stabilizer kit, and the Jetset Utensil Set. Runners-up will receive the Jetset Utensil Set. The Jetboil Backcountry Gourmet Contest runs now through January 15, 2008. Winners will be announced January 31, 2008. For contest rules and entry info visit www.jetboil.com/Out_There/Recipe-Contest.