Meet Trouthunter: Super Helpful Reviewer
This week, we're recognizing Trailspace's outstanding reviewers and community members as part of our 20,000 Reviews Contest.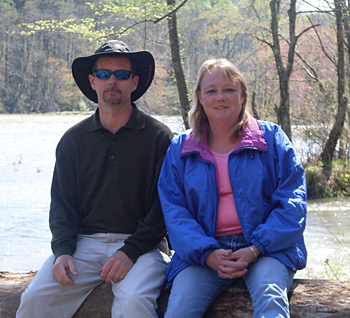 Today we meet Trouthunter, aka Mike Gartman. Mike wrote the gear review rated the most helpful of all on Trailspace.
If you've spent any time in Trailspace's forums, you've likely met Mike already and know what a knowledgeable outdoor gentleman he is. But, here's a little more about Mike, in his own words.
Background: Since 2000 I have lived near Charleston, S.C., a port city. I am married to my wife, Susan (at right with Mike). We have a 23-year-old son, Mike, and a 20-year-old daughter, Jen.
I am an interior trim carpenter and work on beach houses on the various barrier islands we have here on the coast. From 1984 to 1999 I lived near Chattanooga, Tenn.
Outdoors: Shortly after moving to Tennessee, I started hiking and fishing in the mountains and started buying gear. I started with Army surplus gear because that's about all I was aware of.
One day I drove past an outdoor gear outfitter and went inside. They had all kinds of cool stuff! They also put me in touch with a local hiking club where I met experienced people, and started backpacking with a couple guys on a regular basis. I love adventuring in the wilderness whether it's a day hike or a week-long backpacking trip.
Online Communities: I have participated in several online forums and Trailspace is my go-to site for information and gear reviews. The members here are knowledgeable, courteous, and eager to help. I am glad I found Trailspace. This site has really helped me learn many things.
Thanks for being such a helpful (and modest) community member, Mike! For his contributions, Mike will receive:
Congratulations, Trouthunter!
Thanks to Nikwax, CamelBak, Clif, Tilley, Buff, and Leave No Trace for the prizes.