NPS offers animal-human interactive experiences to meet $20M budget gap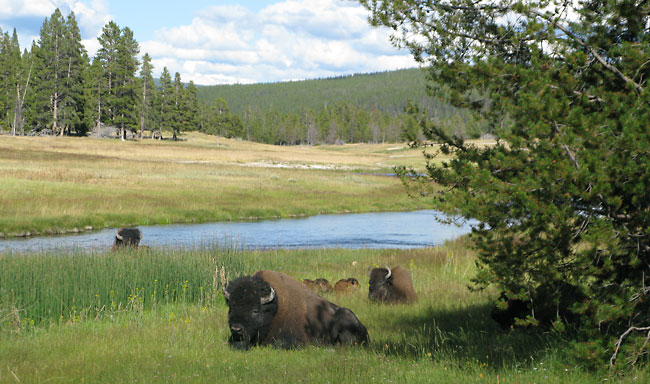 In an attempt to meet a $20-million budget shortfall, the National Park Service will offer animal-human interactive experiences for the 2012 spring and summer tourist season, reports the Department of the Interior today, April 1.
States an April 1st NPS announcement:
Our national parks and educational rangers have always provided opportunities for hikers, campers, and other outdoor explorers to experience the wonders of the natural world firsthand. Now, we've taken it to the next level with full-on interactive animal-human experiences.
"We expect Yellowstone National Park to be a big draw with its program," says one Yellowstone park ranger. "Yellowstone has bison and bears, both black and grizzly, which are pretty photogenic. So we're quite lucky there. Not like the Everglades, which has to figure out what to do with those ugly alligators. Gross."
"In Yellowstone people already are creating their own interactive photo opps anyway," said Ranger Smith. "Every season we have families approaching the animals, putting their kids on a bison for a photo opp, or picking up a cute little bear cub to play patty cake and hold a jar of honey. So we figured, why fight it? Now we charge them a hundred bucks a pop and have them sign a liability waiver."
For $200 a person you can hold an adorably anthropomorphic bear cub with his own stolen pic-a-nic basket while standing on top of Old Faithful. For an extra $50, you and the bear can be chased by Ranger Smith.
Budget analysts estimate the $20-million NPS shortfall will be met by fall.