4:23 p.m. on January 3, 2018 (EST)
andrew f. (leadbelly2550)

TOP 10 REVIEWER
REVIEW CORPS
6,985 reviewer rep
2,277 forum posts
in the relatively warm confines of Maryland, multiple mornings in the single or low double digits is an aberration. For the past several days, more often than not, I found myself out early in temperatures ranging from 8 to 16 degrees. It actually snowed a few times. In the interest of having some fun, I pulled out some things I don't normally wear, and it reminded me of some things I think about when i'm getting ready for really cold weather hikes. Some time in the next few years, i'll get back to my beloved White Mountains and do this for real.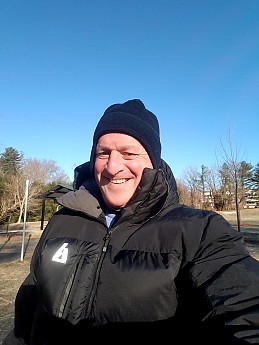 Eddie Bauer/First Ascent's Peak XV jacket. fully baffled, including the sleeves. a couple inches shorter than a classic parka, which l like. I have had this since 2011/12. you want this kind of jacket for those times when it's brutally cold and you have to sit still, not move around for a while. forget about moving much in this unless it's well below zero; otherwise, it's too warm. i had to basically unzip it in 12 degrees to avoid sweating, wearing a long sleeve cotton t shirt underneath. i was moving at a slow walk, and i also took off my hat for a while. that was a mistake, the cold made my bare head hurt. still, you can get this jacket for a bargain price during eddie bauer's sales, and the warmth and quality are comparable to jackets 2x or 3x the sale price. don't believe? try it for yourself. remember to bring 2 good compression stuff sacks, one for your sleeping bag, the other for the sitting-still down jacket.


Scarpa Inverno mountaineering boots, alveolite/high altitude liners. warmest pair of boots i own. wearing them and walking a fair bit on dry ground reminded me: 1) keep the upper laces on the loose side, as this boot can be a shin-buster. 2) ok to lace the inner liner up firmly though. 3) if you are going to take a trip in these, do get them out and walk around in them some to get your legs ready. anyone who has had to wear these with shin bruises knows what i'm talking about. My feet were extremely happy in these on an 8 degree morning.  plastic double boots are heavy, but i think they are warmer than most leather mountaineering boots too.  these work great with automatic crampons.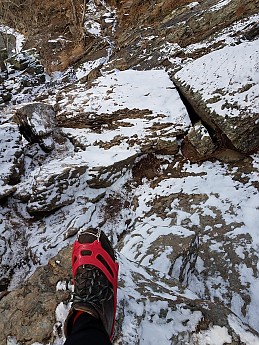 katoohla microspikes. tire chains for your boots if the trail might be icy or slick but lacks the snow cover for crampons. there weren't many hikers out on the rocks pictured here, but the few i saw trying to scale this in shoes or boots were moving very slowly, a lot of slipping and skidding around. i felt like a mountain goat.  these things last a long time, i should review them. i should get a crampon bag for them, though, because when i lashed them to my pack when i wasn't using them, i sounded like jingle bells walking along.