2:14 a.m. on March 5, 2012 (EST)
pine sap

0 reviewer rep
592 forum posts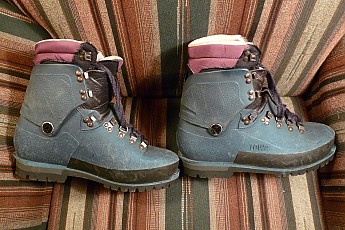 I am selling a pair of men's, Lowa Civetta plastic double boots. I'm the original owner and the boots are in very good condition apart from normal scratches from use. Front and rear welt accomodates clip-on crampon's. Removable lodin insulated inner boot. Asking $110.00 plus shipping or best offer. Original retail was $325.00. Item is being shipped from Estes Park, CO 80517.
Manufacturers description:
Prepare for your next adventure, and step into a pair of men's Lowa Civetta hiking boots. With their rugged construction and protective design, these boots are appropriate for hiking in some of the most treacherous weather conditions. Outfitted with an impact-resistant, highly durable polyurethane shell, these plastic double boots are built to take a beating. Highly effective at keeping your feet warm and dry, these boots feature an insulated fleece footbed that helps protect feet from frigid temperatures, while a water-resistant inner boot liner made with loden wool helps keep feet dry. When preparing to hit the trail and go exploring, choose a pair of Lowa Civetta hiking boots.
Weight per pair: 5.50 lbs
UPPER:Plastic double boot. Tough, impact-resistant polyurethane plastic shell with watertight bellows tongue and protective rubber rand.
Lining:Removable inner boot liner with loden wool and a camp sole unit on the liner.
Midsole:PU Expert.
Outsole:Vibram Alpine, with full-length TPU stabilizing plate for rigidity to secure step-in crampons.
Footbed:Insulate Pro alu-coated with fleece.