12:13 p.m. on May 2, 2011 (EDT)
TAS2
0 reviewer rep
16 forum posts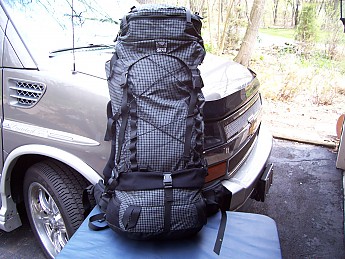 About 8-10 years ago I went on a weight loss self style program; I used the idea of hiking the AT as a goal. Well I lost a lot of weight; I keep most of it off, and purchased a lot of gear. Hence the reason for this sale, I need to sell it, some of it is new with tags and I am too busy to fill the dream for now and someone should use this gear for what it was meant to be used for.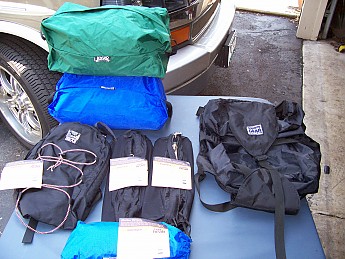 This is not commercial and I am not a reseller. Please also bear in mind that you are going to pay shipping so buying a $10 item could cost you $15+.
I am posting only the Backpack photos, I have pictures that I can email you of everything else, so you can see what you are purchasing.
Granite Gear
1 Cirrus 6000 backpack, long torso, used three days, cost in 2000 $450
1 Strom cell rain cover, XL with sales tag, never used,
2 Stretch side pockets, large, with sales tags, never used,
2 Z bags, large 17", with sales tags. never used
1 Lid hitch hiker, with sales tag, never used
1 Large hitch hiker add on back pack, lost tag, never used
The cost today, you can still get most of these from Granite Gear today is $190.69 plus the worth of the backpack, makes
The buy package price of $250, I believe very reasonable
Others
Sierra Designs, Flashlight Clip tent, used two nights, like new $100
Sierra Design, Flex, 600 Down, large, sleeping bag , with two Andora  compression bags,used two nights, like new $100
GVP, now Gossamer gear, backpack, now know as the Murmur, never used, like new $30
Titanium Evernew non-stick pot with bag, ECA422 1000ml, used once to boil water, like new,$35
Apex II stove, complete kit with box, 2 homemade wind screens, 1 original Esbit Stove with 1 ½ box of fuel cells, Apex II used once, plus the photos and the Esbit was never used $30
Rain poncho designed for use with a large backpack, never used $10
Rain cover backpack XL, never used $10
Bug Out Jacket 2XL, never used $10
Bug Out jacket L, never used $10
Thermarest easy chair, never used $10
Walrus Trekker, mesh insert, never used $30